The Kreutzer Quartet has just completed an intense three-day residency at the Aldeburgh Festival. We played the last quartets of Mozart and Haydn, Priaulx Rainier's two string quartets, and works by composers associated with the quartet – three premieres, by David Matthews, Sadie Harrison and David Horne, and works by Michael Finnissy, and Eleanor Alberga.
Aldeburgh is a special place for all musicians, and there's an extraordinary atmosphere around the place the speaks to many shared
memories. Each of us have visited or worked here, and everyone feels the presence of Benjamin Britten, whose home and inspiration this all was. But, for me, the overwhelming impression, everytime that I come here, is of the wonder, the beauty, and the music of nature.
Neil Heyde, the cellist of the quartet writes:
'For me the lasting thing about working and performing in Snape is the sense of being part of that extraordinary legacy. Important voices from the past are clearly alive in the spaces – and palpably in the audiences as well. It's exciting to be able to bring new work into that long-running story but it also comes with a feeling of responsibility to the legacy. There's not much more a musician could ask for!
In the 30 minutes before our first concert, I snuck out from our green room to the perimeter of the saltmarshes which border the Maltings complex. It was the 'golden hour', the moment drawn out sunset. It seemed that every bird in the reeds was in celebration. I was reminder, that the Latin 'Celeber' means a crowd, a gathering. This avian convocation reminded me where the inspiration for what we musicians do, actually was, is:
Of course, one of the ironies of playing music in a beautiful place, is that you have to look a way from the wonder that is around one, and to the beauty in the work. This is not a hardship, but sometimes a tough 'choice of Hercules'. I confess that I did creep away in rehearsal breaks, found my way down overgrown paths to find somewhere to look, listen and draw.
Sitting there, I remembered my favourite poem by Anne Finch:
GIVE me O indulgent Fate!/Give me yet, before I Dye, /A sweet, but absolute Retreat, /'Mongst Paths so lost, and Trees so high, /That the World may ne'er invade, /Through such Windings and such Shade, /My unshaken Liberty.
But the joy, the essence of an artistic adventure like this, is people: and, of course, at the heart of this, for me, with my 'chamber musician hat' on is my work, my constant workshop with my dear friends in the Kreutzer Quartet – Neil, Clifton and Mihailo. The programmes we put together for the Aldeburgh Festival reflected the ideals, the creativity and the dynamically conversational interchanges which are at the hear of the quartet playing we love.
I am profoundly grateful to the team at the Aldeburgh Festival who encouraged me to explore the most creative, life-enhancing options for programmes for this wonderful place. Chief amongst these was Fraser Wilson (Performance & Public Engagement) who took such a lot of time with me on my preparation visits to Snape, to draw out the themes that we wanted to explore. And it has been so gratifying to have the support of the CEO/Artistic Director of the Festival/Britten Pears Arts, Roger Wright, who is so careful to bring his insight, and understanding of what we do as artists into the conversations, up to, and around the  concerts.
Collaboration is at the heart of everything that I do, and I have no more treasured collaborator than the clarinetist and true force for good in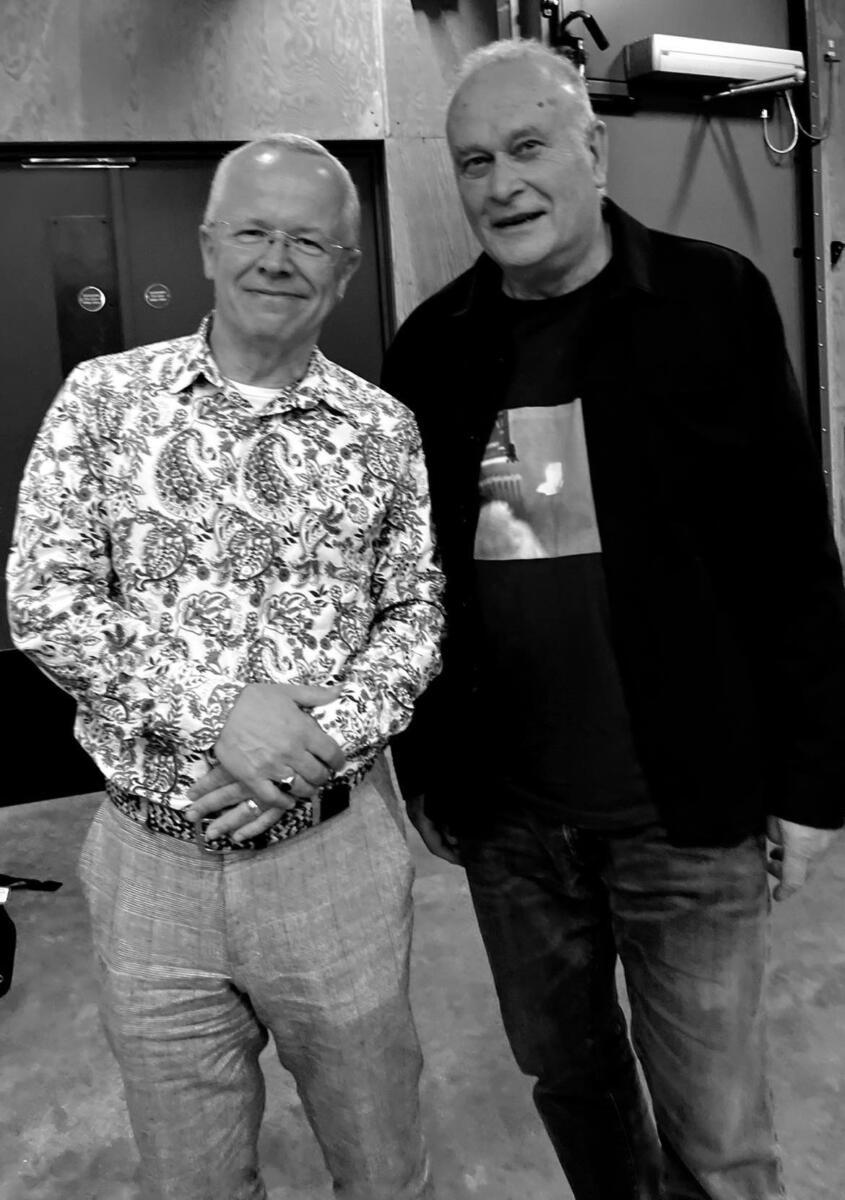 the music world, Linda Merrick. It has been my joy to work closely with Linda for more than two decades. Indeed, she is both artistic co-adventurer, as well as intermittent boss, reaching back the the time when we both worked together at the London College of Music, and now, in my role as Honorary Professor at the Royal Northern College of Music, where she is the inspiring Principal. Linda shares my passion and belief in the creation and enabling of new works, new repertoire – together we have premiered and recorded many new works, beginning with a wonderful Quintet by the late John Mcabe.
LindaAnd she came to the Aldeburgh Festival for the first performance of an astonishing Quintet 'Different Ghosts' LINK by the brilliant Scottish composer and virtuoso pianist David Horne. This triumphant premiere ended our first concert, just as another premiere would finish the concert the next day. Linda wrote about the premiere:
'Working on David's quintet with the composer and my friends and colleagues in the Kreutzer Quartet – with whom I have had the privilege to work for some 30 years- at the Aldeburgh Festival was an incredibly inspiring musical experience. The Quartet brings extraordinary intellectual insight, creativity and imagination to all the repertory it performs. In 'Different Ghosts' we were able to exploit this to the full, exploring the myriad of colours and textures David offers, as well as the work's dramatic qualities. The acoustic and setting of the Britten Studio- and the unique atmosphere that pervades this Festival where you can sense everywhere around you legacy of Benjamin Britten and his work, provided the perfect backdrop for this premiere.'
Here's the quintet – curiously quirks of timetabling meant that we recorded the piece before the public premiere. So this is a 'bolt-up', unedited takes from the session with Linda and the Quartet, earlier this spring.
Collaborations, between composers and performers, between performers and performers, between composers and composers, between composers and texts, between composers and artists (and more), lay at the heart of both of our programmes. It was very important to us, to bring both of Priaulx Rainier's quartets to Aldeburgh. I have been playing this music since my early 20s, and at the beginning of the 2000s, thanks to a collaboration with Tate St Ives, this involvement and fascination deepened into a real understand and love for all of her chamber music and concertante works (especially her final work, a single movement violin concerto, 'Wildlife Celebration', which I have played a
number of times).  There's no question in my mind, that her 1939 quartet is a vital integer in the development of the mature quartets of Michael Tippett and Benjamin Britten, so it is inexplicable to me that here work has fallen from view.
But the crucial collaboration for Rainier, without doubt, was with the great sculptor of the mid-century, Barbara Hepworth. I would say that any examination of either these great artists' works is incomplete, if it eschews the consideration of their collaboration and mutual influence. So it was a moment of quiet pilgrimage, of homage and gratitude, to them both, when, just before our first concert on the 9th June, when I was able to escape to Hepworth's last major work, her 1970 sculpture-triptych 'Family of Man', that stands, as it did when I was young, on the edge of the marshes next to the Maltings.
In 2010, when I curated the exhibition 'Only Connect' for the National Portrait Gallery, it was the counterpoint between these two great artists that offered the well-spring for everything that I explored as a curator. If you would like to explore this exhibit, and this connection further, here's the link – I warn you, it's a rabbitwarren of collaborations and conversations! https://www.npg.org.uk/whatson/display/2011/only-connect-display/only-connect/only-connect
The peroration of our time at Snape, was the premiere of David Matthews' 17th Quartet. I, and the Kreutzers have been, of course, working with David for decades, so it was such a privilege to bring this latest of his astonishing quartets to a place that was and is such a well-spring for him, as he worked so closely with Benjamin Britten when he was a young man. Indeed, this quartet was the result of a Britten-linked dream, which he had before there was any thought that the piece might find its way to Suffolk, and to Orford. David writes;
'I was sitting at a rather beautiful upright piano with a vocal score of Billy Budd: I had just attended a rehearsal, but the music I heard wasn't Britten's, neither was the vocal score's. I played five andante bars, then woke up and found I could remember what I had played exactly, so wrote it down and decided I could use it for the opening of my finale.'
David's wife, the artist Jenifer Wakelyn, notes why it was so special that the quartet was premiered, not only at the Festival that Britten founded, but at Orford Church. Yesterday, she wrote to me:
'Thank you all so much for an absolutely unforgettable musical experience. It was so good to hear you at Snape and at Orford- particularly moving as this was where David first spoke with Britten.' (E mail to PSS, 10 6 23)
When Britten died, he left David a stock of his specially cut manuscript paper and pencils. When David wrote his astonishing 15 Fugues  for
me, twenty years ago, he wrote them on this paper, with Britten's pencils. I have one of these manuscripts, framed, on the wall next to where I am writing, right now – so the links are real, and and all around us. Certainly, listening to the acclaim for this latest in (I am going to say it) one of the greatest cycles of string quartets and its composer, I had the feeling that Britten was/is there, and approves – 'Annuit cœptis' indeed.
For Mihailo Trandafilovski, this was his first visit to Snape. Growing up in Macedonia, and then studying in the USA, before he came to study at the Royal College of Music, Britten's home was not central to his musical up-bringing. Here writes:
'"Just spent two wonderful days at Snape Maltings. It was my first time there (in fact first time in Suffolk) – and I loved it. Amazing walks in the surrounding fields, and on the beach in Aldeburgh; very warm and welcoming hosts; great spaces to play in; and such an open and engaging audience… What a great festival!" (E mail to PSS 11 6 23)
As this was Mihailo's first visit to Suffolk, and to Aldeburgh, there was one rite of passage into which he had to be initiated – not unlike 'crossing the line' on a ship for equatorial neophytes. And that is – fish and chips on the beach. So after our first day of rehearsal, a hardy
group of us trooped along the High Street to the 'Aldeburgh Fish Shop' (the most celebrated/best 'chippy' amongs musicians) to pick up Cod and Chips. It was a beautiful evening, but there was still a stiff north-easterly whipping along the shingle, lowering the felt temperature to about 9/10 degrees. The determination to sit outside with gritted teeth, and have a 'good time' whatever the whether, is a particularly British tendency, and this beach is a great place to practise it, even though the Herring Gulls had other ideas. It didn't take long for them to realise that there was a foolhardy supper party on the pebbles, and they circled, in true Du Maurier style, and eventually succeeded in stealing Mihailo's cod – so his hazing was complete!
Where does inspiration come from? What do we seek out. On our second morning in Aldeburgh, I left our bed-and-breakfast (in a Victorian toll-gate keeper's house next to the site of the lost station), and found my way down Victoria Road to the church of St Peter and St Paul. This 14th century church was built to impress, and the 16th century south porch, increased that impression – it was clearly made so that Aldeburgh ( or Aldeborough as it then was) worthies, could stay out of the weather when they arrived at church in their carriages, by driving under, and through this
maganificent made-for-horses arch (which was replaced in the 19th century).
There's nothing like an empty English church. For me, it is the sense of the layers, the gatherings of all the people who have lived and worshipped here, the feeling of being, as the composer Jeremy Thurlow would put it, 'Among Voices'. So there's nothing lonely or haunted about the experience – rather, it is comforting, not unlike the memory of my grandmother's church coffee mornings – welcoming, understated, and humble.
One of the most moving monuments in the church is to the poet, surgeon and clergyman, George Crabbe (1754-1733). He was the incumbent here, and wrote The Borough, inspiration for Britten's harrowing mastpiece Peter Grimes.  His marble bust stands in the North Aisle, in Roman dress. But it's the ornament on the plinth which moved me. It is a cithara, a lyre – the instrument of the God of Poetry and Music, Apollo. And it has two broken strings (and a flower  – of poesie?).
This kind of delicacy, this poetic sincerity, is the epitome of the music of Sadie Harrison, whose work we were premiering that night. Her The River Dreams of Winter is based, like many of her pieces, on my paintings and drawings, and she has an uncanny knack, of getting to the well-spring of a an emotion, an emotion, and transfiguring it, rendering it universal. The first of the 'River' cycle is a tiny violin solo. Here's the exploration of the piece I did, when it arrived, during Lockdown.
However, midway through the composition of this piece, the world was horrified by the murder of George Floyd in Minneapolis. Sadie responded with an extraordinary movement 'The Multiple Burdens of Injustice: 10,000 Black Men Named George'. This morning, I wrote to Sadie, who was not able to be with us this weekend.
'Your pieces were a joy and a wonder on Friday. I spoke about why we had to bring 'Burdens of injustice' into the group, and your extraordinary sensitivity as an artist who lives in the world both as it is, and as it should be. For me, the silence at the end of the group was one of the most beautiful I have ever heard from an audience. You were there, for sure…' (FB message PSS to SH 12 6 23)
A crucial aspect of making programmes is how each piece should both have an independent life, tell its own story/ies, as well as making a whole, a colloquy with the other works. This was crucial in the way that these programmes were put together, and in the conversations
amongst the quartet, with Clifton, Neil and Mihailo, with the festival, and with the composers, alive and dead. For the first time, for us, we brought together Mozart and Haydn's last quartets, and balanced/offset these with Michael Finnissy's extraordinary 'continuation' of Bach's unfinished 'contrapunctus' from the 'Musical Offering'. There is nothing 'end-game' about any of these last quartets – in both cases they show the composers experimenting with new, actually revolutionary ways that 'four people in a room' (as Finnissy has described a string quartet) can sing, talk, and play together and apart.
I was interviewed by the writer Tim Rutherford Johnson for the programme of this festival, exploring some of the ideas in the concerts. Here's a link to the text –INTERVIEW
Here's composer David Horne's reflections on two days at the festival:
'It was a genuine honour and privilege to attend the Aldeburgh Festival to hear Linda Merrick and the Kreutzer Quartet's superb performance of Different Ghosts. While the recording session of the work in February was already a wonderful experience, to hear the piece come alive so vitally at glorious Snape was an utter pleasure. The performers' commitment to the music was so palpable, adding greatly to the excitement. I also loved being a part of such an exquisitely designed programme, alongside Alberga, Harrison, Haydn and Rainier. The dedication of the quartet to their art was in equal evidence the following morning in Orford, with a completely different programme, but just as intense, with Rainier, Finnissy, Mozart and a stunning premiere performance of David Matthews' 17th Quartet. The energy, inventiveness and accomplishment of all these performers is pure inspiration, and if they were even slightly fatigued after such extraordinary performing in both concerts, they did not for a minute show it! When I am composing I always imagine the work's first performance, and I indeed visualised Linda and the Kreutzer Quartet playing the piece in an imaginary space while I created it. Those musings in my mind, enjoyable though they were, proved to be a pale imitation compared to the searing energy of their playing- thank you to all of you, this is what makes it all worth it!' (Email to PSS 12 6 23)
David Matthews wrote:
'That concert was one of the best musical experiences of my life, and I was feeling quite overwhelmed at the end. Your performances of everything were so insightful and brilliant, and for me so appropriate – I felt very close to Priaulx Rainier's world, and to Michael's fugues, and to Mozart and my whole relation to that Classical tradition. I couldn't have had a better premiere for my 17th, in that very special church. I've decided to dedicate the piece 'In homage to Benjamin Britten'. (14 6 23)