Welcome
Welcome to my website. In this times, there's never been more urgency to staying in contact, sharing ideas, sharing music. If you would like to ask me anything, please use the contact form, and I will answer as soon as I can!
'Skærved is fully on top of even its most stratospheric technical challenges' Gramophone Magazine

'Peter Sheppard Skaerved clearly responds to the music's communicative desires; it now has a conversational tone, now sings with the breathiness of a very human voice' New York Times
If you want to support my work, you can go to my Patreon site, to become a patron:
https://www.patreon.com/sheppardskaerved?fan_landing=true
1700 Stradivari at the Library of Congress Washington DC
Just a glimpse of what I have been doing at the Library of Congress for my  Knowledge Exchange Violin project this autumn (find out more here)
On the Road in the USA – Knowledge Exchange Violin in Wisconsin – Minnesota – DC – New York – Connecticut – Illinois – Maryland!
I am in the midst of a welter of wonder – new music in the Midwest Fall colours, filming at the Library of Congress and Metropolitan  Museum just to start. Follow the adventure here  https://www.peter-sheppard-skaerved.com/?p=30925
Here is the lovely piece that David Hackbridge Johnson wrote for me last week, after seeing pictures of my walk to coffee along a back alley in River Falls Wisconsin. He finished the piece on the 18th, and the time difference (6 hours) meant that I was able to work on it intensely the same evening – and then could get it onto the programme for my lunchtime concert University of Wisconsin–River Falls on the 20th. And of course, the audience loved this delicate homage to their town – as, I think will you!
With thanks to Kris Tjornehoj for making such lively collaborations and inspirations possible!
19th October – Robin Holloway Solo Sonatina
Celebrating Robin Holloway's birthday. One of his two tremendous works for violin alone
Premiering Robert Saxton's Solo Sonata – Nicosia, London, Cambridge (October 4-13th)
It's been a very busy week, and I will write about it more this weekend. But here's a picture of the premiere of Robert Saxton's 'Sonata – Reflections in Time' at the Pharos Contemporary Music Festival, Nicosia, on the 4th October
Following the 3rd performance of his wonderful Solo Sonata at Robinson College on Friday, Robert Saxton came up with some brilliant adjustments-demonstrating the art of deep listening. Read about them here- in my continuing blog about the composer's workshop! https://www.peter-sheppard-skaerved.com/?p=30634
Sadie Harrison on the practice desk and in the rehearsal room
'Moonstone Fire', the first movement from Sadie Harrison's exquisite '… An Amaranth from the Shade …' which Roderick Chadwick and I premiere in Carmbridge on the 13th October. This is just a VERY LOFI mobile phone mic eavesdrop on a rehearsal. But, as every, such beauty from this wonderful composer (and trees on the Thames path, a few days ago)
A subtle beauty on the practice desk Sadie Harrison's exquisite '…an amaranth from the shade..' which Roderick Chadwick and I will play in Cambridge on the 13th October. Here's one of her wonderful solo pieces, live in Washington https://www.youtube.com/watch?v=gDmODVs4PCU&t=32s
A Glimpse of work with  James Turrell SkySpace 8 9 23
Robert Saxton meets Samuel Dushkin 24 8 23
This afternoon at the Metropolitan Museum, I could not resist the chance of playing the music of Robert Saxton, on this wonderful Voirin bow owned and played by Samuel Dushkin .Dushkin was born in Suwa?ki, Poland. He studied at the Paris Conservatoire and with Leopold Auer in New York City and Fritz Kreisler. Works written for Dushkin, and premiered with this bow, include all the major works by his greatest collaborator, Igor Stravinsky, and Ravel's orchestral version of Tzigane. Most violinists have unwittingly played his greatest musical hoax as a composer, the "Sicilienne in E-flat Major by Maria Theresia von Paradis" – very much in the spirit of the his teacher Kreisler's multiple musical cons! Filmed by Malene Sheppard Skaerved
Thinking about John Cage by the Grand Canyon 16 8 23
At the end of this extraordinary day, Malene Sheppard Skaerved Garrison Keillor and I were looking at this view and talking about music. The conversation turned to John Cage, and whilst I talked about Walking Music, Landscape, and Radio Music etc. this is the piece that was actually in my mind. So back to the hotel room, and I dug out our performance from some time back, and put it with the astonishing landscape and light in front of us.
Honouring Gloria Coates! 14th August 2023
I was thinking about my dear friend Gloria Coates' wonderful quintet on the train over the Rockies, and into New Mexico yesterday. There was the most extraordinary light over the high plains. And today I realised that I have never posted the 2018 performance we gave of her extraordinary quintet. After three decades performing her work, I am still fascinated, inspired, challenged and always moved. With Neil Heyde, Clifton Harrison Mihailo Trandafilovski Roderick Chadwick and with thanks to David Wordsworth, who made this performance happen. So here it is, with the light over the desert yesterday afternoon
Bartok in New York City
It's not possible to be in New York City, practising and writing about Bartok, and NOT play the great sonata he wrote here. So here is the Melodia, at the desk this morning, with the view from the desk, as the rain stopped… With thanks to Monika Machon and Richard Bram
Thoughts from the practice desk – 3rd August 2023
Dialogues: Bartok on the practice desk. I studied this piece with Manoug Parikian when I was 18, and it is fascinating to work on the part he marked up for me – and weave my approach now around it. I think that every musician recognises such an ongoing conversation with a teacher, with all its debates and insights as alive as ever- so both voices remain on the page, both as entranced with this miraculous piece, and as ever, with a mass of questions for the composer
Films from the Metropolitan Museum – Out Now! 14 7 23
Just up on the Metropolitan Museum Website. So grateful for everyone who made this possible! @RoyalAcadMusic Follow the link! 
Here's some Eccles to get you interested!
Preparing for concerts, workshops and more at the Deal Festival 2023
Composer and Deal festival director Luke Styles sent me these photos of Mihailo Trandafilovski & Joanna Jones' linked paintings and composition, hanging at the Linden Hall Studio Deal, where I will play the piece alongside Malene Sheppard Skaerved's film about Joanna's work, with movements from Sadie Harrison's 'Gallery' (which respond to my drawings and paintings) and Michael Alec Rose 'Knowledge Exchange Violin' pieces – and there will be Matteisa and Lonati too! Join us!!! Deal Music & Arts https://dealmusicandarts.com/events/peter-sheppard-skaerved/
New Release – Nigel Clarke Concerto with the Vienna Radio Symphony Orchestra!
Kreutzer Quartet at the Aldeburgh Festival June 9-10 2023
My reflections on three days playing quartets at the Aldeburgh Festival – there will be more tomorrow! https://peter-sheppard-skaerved.com/?p=30738
Some thoughts about Kreutzer Quartet Britten-Pears Arts/Aldeburgh Festival this week w/ Sadie Harrison, David Matthews, Eleanor Alberga, David Horne, Michael Finnissy, Priaulx Rainier, Mozart, Haydn, Neil Heyde, Linda Merrick, Clifton Harrison, Mihailo Trandafilovski
?
Celebrating Roger Redgate! 3 6 23
It is Roger Redgate's birthday! Hurray! If you are a violinist, take the challenge of the caprices! If you are a composer, do the same! If you are a listener, the most important person of all, enjoy the fireworks!
The joy of the composer's workshop 'Inside the Swirl'! 30 5 23
Mihailo Trandafilovski has just sent me this page, which he notes, is the 'ecstatic culmination' of his new solo work based on the wonderful art of our mutual friend and collaborator, Joanna Jones. I write more about the compositional and collaborative process here: https://www.peter-sheppard-skaerved.com/?p=30634
Mystery work….the question answered!
This piece has ;ong been close to the Kreutzer Quartet's heart
for years, but we have never recorded it. Who wrote it, and when?
If you are one of the handful of people who have heard us play it, hold your horses for a few hours!
And here's the answer – it is an unpublished early work by the great Priaulx Rainier, then aged 19, and going by Ivy Rainier, and a violin student at the Royal Academy of Music. We will be playing it at the Aldeburgh Festival, along with her celebrated 1939 Quartet, in a few weeks time!
It's here! Prophecies of Merlin
Celebrating the imminent release of Nigel Clarke' extraordinary symphony for orchestra 'the Prophecies of Merlin'- on which we collaborated across lockdown -and then brought to life through the brilliant baton of Neil Thomson (happy birthday Neil!) and the wonderful ORF Radio-Symphonieorchester Wien – RSO Wien. What a joy to be part of this!
A major new work emerges – but who is it! 20 5 23
Unbelievably excited about this piece, which I have been discussing with the composer for nearly 6 years. Here's just a glimpse behind the workshop door … but who is it!
A great, great Viola Sonata!!!!
We are just about to release Martin Ellerby's tremendous, and I mean, tremendous, Viola Sonata. Here it is, in unedited (lockdown) session outtakes, with the great Roderick Chadwick
Follow this link for some writing on Ellerby's sonatas
Tools on the overnight practice desk  overnight 14 5 2023
Detailed work on David Matthews' wonderful 17th quartet, the latest of many pieces he has dedicated to us. And a stone tool from my inspiring teacher Beatrix Marr's Devon vegetable garden. Come to the premiere, at the second of our concerts at next month's Aldeburgh Festival! With Neil Heyde, Mihailo Trandafilovski, Clifton Harrison LINK
At the desk, 22 4 23 – Jeremy Thurlow responds to Vilhelm Hammershøi
I spent this morning with Jeremy Thurlow's exquisite reponse to the work of Vilhelm Hammershøi. Hammershøi is a hero around here, and Malene Sheppard Skaerved and I were stopped in our tracks with his 'Moonshine' at the Metropolitan Museum just a few days ago.
Upcoming release – Nigel Clarke 'Prophecies of Merlin' with the Austrian Radio Symphony Orchestra
So pleased to share this, today, on the day when it was announced that this wonderful orchestra's future is assured! It was a joy to be a small part of his project, with Nigel Clarke, Neil Thomson, and our many friends ORF Radio-Symphonieorchester Wien – RSO Wien! (yes, the painting is mine!)
Working with young composers at Ithaca College, NY 20-23 March 2023
I am just finishing four days of intense collaboration with composers at Ithaca College, New York. After really fascinating workshops I premiered 11 wonderful new works from the composition class. 6 of them were responding to birdsong, in various and interesting ways.
British Violin Maker's Association at Kings Place 12 3 23
Yes! We performed all of these wonderful instruments in one concert! With Neil Heyde. Clifton Harrison, Mihailo Trandafilovski at the British Violin Makers Day at Kings Place today! Inspiring to be with so many old and new friends in the vibrant making community, and wonder at the glory of today's violin making!With my wonderful friends in the Kreutzer Quartet! It was also inspiring to see Lark Music Insurance support for this amazing event and to see their real enthusiasm an involvement!
First Listen – Marc Yeats new work, live recording (2/3/23)
First chance to hear Marc Yeats epic work for violin alone. Live lats week at the George Moore Theatre at Goldsmiths. Hold on to your hats! BTW – the picture was taken from my practice desk on Svalbard at 1 am a few years ago!
Celebrating collaboration –  Composers and and Performers – at the Royal Northern College of Music 6 3 23
A great afternoon with young musicians at the Royal Northern College of music here in Manchester, where I was appointed Honorary Professor last year. Over the past few months they have been developing collaborations: today they brought along to eight new pieces which resulted. It was a joy to work with them, and wonderful to see how inspired and generous these young people are t to each other. An amazing atmosphere in the room. More on this to follow!
Reporting back from 'Collaborate' at the George Wood Theatre, Goldsmiths 2/3/23
A couple of my dear friend Richard Bram's great photos of the concert concert.
Discover Richard's wonderful work – he's one of the great photographers, and it is a privilege to have collaborated with him for many years – here https://www.richardbramphoto.com/
Vilsmayr on the Rode Stradivari 
Another glimpse of what we have been doing – and a light scordatura on this most wonderful Stradivari
Lyre Bird in the Chilterns!
Yesterday morning, I recorded Edward Cowie's fantastic 'Menurida Variants'. Here is a single take, and images from the walk to and from the studio in the Chilterns. This piece is inspired by the Australian Lyrebird, the Superb lyrebird (Menura novaehollandiae). The sharp-eared witll spot some Haydn references!
This is one take, with the page-turns left in (they will be snipped out for the released recording). But I wanted listeners to see what I do with a one-take account of a large piece.
First look!
A sneak peak, at what we  have been up to, at the Ashmolean Museum, where we spent a glorious day filming and recording on the unbelievable 1722 'Rode' Stradivari. Here, just an idea about decoration, with some Telemann drifting around (recorded on the 'Rode'). The finished film has nearly 50 minutes of music, and mercifully, very little of me talking…. this just an outtake.
Filming and recording at the Ashmolean Museum – 27 1 23
Michael Alec Rose's cycle of pieces for my 'Knowledge Exchange Violin' project is a joy, and a growing one at that! Here's the piece he wrote for the Pierre Rode 'Strad', recorded last week at the Ashmolean museum. Spot the reference at the end!
Film of Peter Sheppard Skaerved & Laurence Rose at RSPB Farnham Heath
Johann Pisendel live in St Botolph Bishopsgate
The Pisendel A minor solo sonata is one of the most lovely notations of fantastic improvisation that survive from the 18th Century, and I love how each space remoulds it – in this case, the George Dance the Younger church of St Botolph Bishopsgate (which is roughly contemporary to the piece)
New discs! David Matthews Quartets, Volume 5. 31 12 22
It is here! volume five of David Matthews String Quartets
It is my seventh volume of his work for fantastic Toccata Classics!
And actually, my ninth disc featuring his music
Message me if you would like to ask how to get a copy!
More Knowledge Exchange Violin Podcasts….completed. December 30th 2022
Juleaften! Christmas Eve 2022
I woke up with Jerome Kern and Sven Asmussen on my mind. So, before I started cooking, here's 'All the things you are. in Asmussen's wonderful late arrangement for solo violin, by the tree here in Wapping (he confessed these arrangements were full of Telemann).
God Jul!
Talking about Giovanni Battista Viotti to The Strad magazine
On the way – my little piece about Viotti for an upcoming edition of The Strad. Watch this space!
Knowledge Exchange Violin – Minneapolis Update!
Introducing Revolution a la Mode, and some lovely Corrette scordatura, played on Matt Wehling's inspired bow!
Talking about Clarinet Quintets at the Royal Northern College of Music November 23rd
Tomorrow, I will be at the RNCM with Linda Merrick, David Horne and Gary Carpenter, talking about Clarinet Quintets. So I thought I would upload a clarinet trio. Here's Jörg Widmann's, with the composer and Aaron Shorr a few years back, to grab your ears. String players, if you are not playing chamber music with wind instruments … why not?
Knowledge Exchange Violin in the USA – October 2022
Follow the blog here! KNOWLEDGEEX
The Violin in Modena arrives!!! 13 9 22
Great news!! My new 17th century disc for the wonderful Athene (Divine Art) Label has arrived. Many thanks to all the team who worked on this disc, especially Jonathan Haskell and Stephen Sutton. If you would like a copy at a website discount, contact me using the contact form! Great solo works by Colombi, Vitali and anonymous composers!
Work begins in Vienna! Recording Nigel Clarke's 'Prophecies of Merlin'
I have just arrived in Vienna, after a wonderful train journey down the Rhine, and then the Danube, from Cologne. I am here to record the wonderful 'Prophecies of Merlin', written during the Covid-19 Lockdowns for me by Nigel Clarke. We will meet up with my old friend and collaborator, the truly trail-blazing conductor Neil Thomson, and we will spend the whole week hard at work with the great Austrian Radio Orchestra. Neil and I were both teenage violin students of the most wonderful of English violinists, Ralph Holmes. Ralph died tragically young, but his voice sings on, and I know he's pleased about what we are going to do this week.
A new work for Croatia! 24 8 22
An glimpse of the colourful and evocative Korkyra Capriccio / Kor?ulanski kapric, by Ivan Josip Skender, which I premiere, alongside a new work by Mihailo Trandafilovski, at Laura Vadjon's wonderful Korkyra Baroque Festival in a few weeks! https://korkyrabaroque.com/en/peter-sheppard-skaerved-2/
Knowledge Exchange Violin – Follow the Project in the USA! 
I am just completing three weeks of exploration in the Midwest and on the East Coast! Follow the blog https://www.peter-sheppard-skaerved.com/?p=29958here.
?
Revolutionary Wonder 
Balm on a hot evening. Another glimpse of the French revolutionary project I have just completed with the fantastic Héloïse Bernard and Julian Perkins 'Air du Couvent'.
Discovery in DC
I have just finished two days of exploration and collaboration with the extraordinary team at the National Gallery of Art, Washington DC. Follow the project here https://www.peter-sheppard-skaerved.com/2022/06/knowledge-exchange-violin-2022/? 
The Social media team at the NGA< posted this snippet of Locatelli, which has been seen by nearly 23,000 people in two days
In case you're in need of a pick-me-up. ?

Violinist Peter Sheppard Skaerved (@Sheppardskaerve) stopped by the museum today to give our visitors a surprise performance. ? pic.twitter.com/rEjgfz34Bq

— National Gallery of Art (@ngadc) July 7, 2022
First Look! The Violin in Modena! 14 6 22
This just in – first look at a cover for my newest disc of 17th century solo works…huge shout out to Stephen Sutton at Divine Art for turning my idea of late 17th century end papers into something glorious….https://divineartrecords.com/new-recording-of-17th-century-violin-music-from-modena/
Knowledge Exchange Violin begins 4 6 22
Over the next 8 months, much of my travel, performing, recording and filming will be under the wing of a grant from Research England's 'Knowledge Exchange' programme. To follow the project, go to : https://www.peter-sheppard-skaerved.com/2022/06/knowledge-exchange-violin-2022/
The project began with a conversation on the Observation Tower over RSPB Leighton Moss, Cumbria, between myself, a nature writer (Laurence Rose), a composer (Edward Cowie), a filmmaker ( Malene Skaerved) , an ornithologist (John Carter) and an artist. Next stop this week, Brussels!
Michael Hersch works for violi
First glimpse of a huge recording project – undedited outtakes while the whole is assembled! 
Charles Auguste de Bériot at the desk 9 5 22
Charles Auguste de Bériot's lovely Étude Op 123 No 50, 'Expression tendue et mélancolique' at the desk this morning. A violinist composer of wonderful sensitivity, whose etudes are woefully neglected
Some Matteis to start the day! 4 5 22
Pierre Baillot imitates a Musette (at the desk 2 5 22)
Drawing together the pieces that I will record on Pierre Rode's wonderful violin next month. There will be a selection of pastoral works for violin alone, by Viotti, Rousseau, and this wonderful imitation of a musette by Pierre Baillot. Here at the desk, with some lovely sheep and lambs I saw in the Chilterns last week
New Writing – Thinking about Chaconnes, Critics, Competitions
In the studio – Mihailo Trandafilovski 'Chaconne' (2022)
 An outtake of Mihailo Trandafilovski's wonderful new Chaconne – very much, a continuing journey
Podcast for the National Gallery of Art, Washington DC!
Hurrah! Just out, my first podcast, for the National Gallery of Art, Washington DC! Listen here! 
https://www.nga.gov/music-programs/podcasts/peter-sheppard-skaerved-hieronymus-bosch-death-miser.html
Digging into the detail! 14 4 22
On the desk today, Edward Cowie's brilliant 7th Quartet, which I will record with Clifton Harrison, Neil Heyde and Mihailo Trandafilovski in a few weeks. A collaboration I treasure! Here's the wonderful Bach/Boiled Egg piece he wrote for me at the beginning of Lockdown, two years ago (with eggs) 
Mihailo Trandafilovski – a new work for solo viola  3 4 21
On the overnight practice-desk/floor, my dear friend Mihailo Trandafilovski's 'distorzija-spektar' which I will record in three weeks time!
Here's his second concerto, live in Dover, with art by the great Joanna Jones https://dadonline.uk/legacy/re-veil-le/
In the studio with a  great composer! Recording Robert Saxton 21 3 22
A day filled with great quartet-writing, friendship and the joy of good, hard work. With the great Robert Saxton, recording his wonderful 3rd Quartet, which we have played for years, but continues to astonish. With Adaq Khan (who took the photo and is the visionary engineer), Mihailo Trandafilovski, Clifton Harrison and Neil Heyde
Nielsen – 'the children play'. In the studio 14 3 22
Beginning the day with the very heart of Nielsen
Slaatter, Springdanser, Hallinger 8 3 22
 I arrived early for yesterday's recording, so I spent an hour recording Anders Heyerdahl's lovely Hardanger transcriptions. 20 mnutes of the simplest violin writing, but so lovely. Missing the landscapes where I fell in love with this music.
Chaconnes, Passacaglias in Deptford 17 2 22
Chaconnes, Passacaglias, Winter Journeys, Snowy Margins… by Colombi, Biber, Baltzar, Isang Yun, David Matthews and
Michael Hersch
which I am playing at 630pm tonight.
Joseph Horovitz R.I.P
It was my great honour and pleasure to have spent time with Joseph Horovitz. Here's his wonderful 'Dybbuk Melody'. Ave atque vale.
News from the Royal Northern College of Music, Manchester 
A long-lost David Matthews Canon, for Sir Michael Tippett 24 1 22
The first
hearing
of David Matthews' 1974 canon for Sir Michael Tippett w/
Mihailo Trandafilovski
,
Clifton Harrison
, Neil Heyde (yesterday)
Kreutzer throws a thunderbolt! 23 01 22
Here's Kreutzer's cloudburst, at the desk this morning. Joing Gwendolyn Masin and I Tuesday to explore this caprice more. Book here, or message me https://www.the-exhale.com/class/etudes-101-the-kreutzer-sessions-nos-23-26
Jerome Kern at the desk 17 1 22
Inspiration on the practice desk 16 1 21
Three great 20th Century works works for violin alone, by Max Reger, Per Nørgård, and Yun Isang
(and here's Nørgård's 'Bofast')
Inspiration and idealism 12 1 22
Introducing Norman Platt's extraordinary writing about the work of music to students this week. Here's the extraordinary peroration to his 'Making Music'. I was lucky enough to meet him when I was still at school, and to be encouraged (vociferously) and inspired by his idealistic approach.
Back at the Library of Congress 6 1 22
A glimpse of Thursday. 2 minutes of Viotti on a violin I dreamt of from childhood ( I had a picture of it in my room), first performed on in 2006, and have been lucky enough to play, film and record on it a number of times since. It's a privilege to work at the Library of Congress, and I have a smile on my face every time I am there. 
The glory of the composer's workbench 8 1 22
One of the great joys of my musical life, is my long collaboration with the American composer Michael Alec Rose. This has resulted in dozens of new works, two cds, and miles of walking and talking on both sides of the Atlantic. Here's a glimpse of his process towards a new Quartet for the Kreutzers! Intrigued? You can buy the piece that he wrote for me about Dartmoor here https://divineartrecords.com/recording/michael-alec-rose-il-ritorno/
Layers – brilliance from a young composer, Lucas Levin
Aural delight: last year, Joanna Jones, Malene Sheppard Skaerved, Clare Smith and I asked Lucas Levin to make an artwork responding to Dover, for DAD (Dover Arts Development). I think that the chance to see the palimpsest emerging from the Maison Dieu provided inspiration for his title, but he has made an object of beauty, which will never repeat. Listen: and then press Refresh – I can't stop. I am full of admiration and gratitude! Hats off!!!
Paul Pellay's new piece, second performance! Stillwater Minnesota 12 12 21
Here is the evening performance of Paul Pellay's lovely 'expectant consolation' for Advent, live (LO FI CAMERA MIC) in Stillwater last night. Paul dedicated it to Malene Sheppard Skaerved, Marius Skaerved and me – and we are very touched. With thanks to Kris Tjornehoj (and heres a snowy corner of town) 
Explorations at University of Wisconsin at River Falls 13 12 21
So happy to be back on a great American campus again, in an inspiring music departments. Thanks to everyone at UWRF and Kris Tjornehoj. there was Biber, Bach, Marini and the premiere of Paul Pellays's lovely new piece! 
Inspiration from a Minnesota river! 12 12 21
Nature lends a hand: Tuesday's exploration of Kreutzer 21st Caprice is all
about
turns, eddies, tides and whorls. This morning, the frozen St Croix offered ideas and inspiration.
Everything we artists try, reach for, worry over and practise is perfected, in infinite ways, all around us, all the time, by Nature. This is cause for celebration, inspiration and more perspiration.
Join
Gwendolyn Masin
and me to continue this capricious journey!
https://www.the-exhale.com/class/etudes-101-the-kreutzer-sessions-nos-17-22
Florish in the Key! A Christmas Album!
This is sweet, and a new one for me – did I accidentally make a Christmas Album? I did! Go and buy it – there are 13/14 days left to get your copy! Who needs socks when you can have 'Florish in the Key'! : 'You might like the album because of Sheppard Skærved's virtuoso skills or because of an interest in historical violin but you can equally enjoy it for the warm, varied playing. A good festive album, too, because of the warm, fuzzy and happy mood it creates.' Congleton Chronicle Read whole review and order multiple copies here! https://divineartrecords.com/review/florish-in-the-key-the-chronicle-review/
Mozart on the way…
First glimpse … a couple of tweaks on the way, but I can't not share this. Yes, I am excited
Caprice! Caprice!
On the 9th December I will be exploring the world of caprices at Goldsmiths College, where I am the visiting research fellow. Come along it's free! Below, some inspiration from Charles-Auguste de Bériot for the event. Link here
More reaction to Edward Cowie 'Bird Portraits' 
'His continuing series of 'The Great Violins' recordings and other early music for the instrument are testament to his depth of knowledge and the innate musicality which also inspires the magical performances on 'Bird Portraits'. New Classics November 2021
Lennod Berkeley Introduction and Allegro
People have been talking to me about my performance of this wonderful Lennox Berkeley solo piece. Written for Ivry Gitlis. Both much missed 
Hold Infinity in the palm of your hand – Scelsi's 'Arc-en-ciel 16 11
Scelsi's 'Rainbow' is incredibly important to Mihailo Trandafilovski and I. So exciting, at last to bring it to the microphone
The Dream of the Field Cricket – First Listen 15 11 21
First listen. The Dream of the Field Cricket, dedicated to the writer Laurence Rose. 
– paraphrase of the song of one Field Cricket. Session outtakes 11 11 21 –
with Mihailo Trandafilovski
Premiered at RSPB
Farnham Heath Summer 2019 –
Inspired by 'Back from the Brink'
Abel – Adagio 13 11 21
Just a glimpse of Abel's 27 pieces for solo Viol, played, a heartbreakingly delicate adagio. Played tonight on the 1641 Rayman viola. Come along on Sunday to hear more, in the church next to the graveyard where the last celebrated gambist of the late 18th century was buried, along with his friend JC Bach. There will be wonderful pieces written for this viola by David Hackbridge Johnson. 
Bartok in the Studio 10-11th 2021
This is what we do. After many years playing and study the 44 Bartók Duos together, Mihailo Trandafilovski and I have recorded the set, along with pieces by Scelsi and both of us. Here's 40 seconds worth – Forgatós! We can't wait to show you the work that engineer Adaq Khan has done – you'll have to wait to hear that!
Kreutzer Etude 16  9/11/21
Putting the pieces/tesserae together. Come along on Tuesday to the next stage of
Gwendolyn Masin
's and my exploration of the Kreutzer caprices – the wonderful ornate No. 16, 'bright with sinuous rills'. With Roman mosaic tiles out of the river here. BOOK HERE!
Kreutzer Etude 15 2/11/21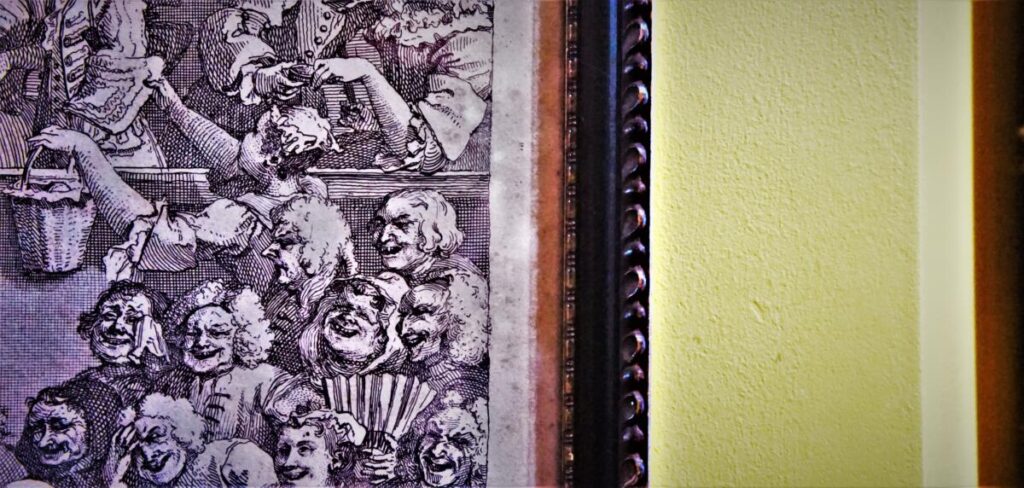 Tomorrow – Etude 15 in my exploration of the Kreutzers, with
Gweendolyn Masin
. Overnight, Hogarth offered to help -so his laughing audience (which I see every morning) is a small part of that. Come along and find out more .
Hafliði Hallgrímsson – Offerto Review in Musical Opinion October 2021
You will never hear a more perfectly attuned and harmonious player than Skærved, whether with his instrument or in putting his considerable expertise at the service of the composer…. , played with flawless intonation and exceptional musicianship. This disc is just a joy from first note to last.
" —Guy Rickards, Musical Opinion
Kreutzer Quartet back at work! 
Back in business! The beginning of a new set of rehearsals on wonderful quartets written for the Kreutzers, by Robert Saxton, Edward Cowie and David Matthews. The fun has begun, for real, now! With Neil Heyde, Clifton Harrison, Mihailo Trandafilovski
Edward Cowie – Bird Portraits! 
It's arrived! Edward Cowie's awesome Bird Portraits. Wonderful playing from Roderick Chadwick, brilliant engineering from Jonathan Haskell, beautiful painting by Heather Cowie, stunning production from Stephen Sutton at Metier/Divine Art. Come to hear it – copies will be on sale at a super discount! Links to the event https://www.facebook.com/events/273772717939134?ref=newsfeed  
https://www.gold.ac.uk/calendar/?id=13741
21st October, 7pm, Deptford Town Hall, Council Chambers, Goldmiths, New Cross Rd, London SE14 6AF
Admission Free. Contact me!
Electro-acoustic fascination. Oxford 6 1 21
Absolute inspiration. Ben Heaney introduced me to an extraordinary violin – and Ben Hebbert introduced me to both (and took the picture). And, as reamarkable, is the date this was made and patented… intrigued?
Edward Cowie Premiere
?Just a moment of Edward Cowie's homage to the wonder of the lyrebird – Menurida Variants, during my premiere two days ago. Thanks to Heather Cowie for the film and for the inspiration, all around
??
Sadie Harrison's walk in the churchyard 29 9 21
At the desk this morning: As part of my concert in Lancaster this weekend, responding to Heather Cowie's lovely exhibition, I will be playing extracts from Sadie Harrison's 2-book 'Gallery' (responding to work of mine). It's a treasure trove, and I am so proud to have been part of it's arrival. Here's a walk in a churchyard – marked 'with an icy chill' at the practice desk today, with view of our path last week. 
New solo work from Thomas Metcalf 28 9 21
A very happy part of a busy day. At the desk recording of two of Tom Metcalf's haunting 'Vignetters of a Pixelated River'. Here's the 3rd, played on a lovely late 20th century viola! 
Matteis to finish the day  26 9 21
To finish the day. Two minutes of Matteis, at the desk. With music this wonderful, the best thing that I can do, is stay out of the way! 
Art and Craft of the true composer – A new Quintet from David Horne 7 9 21
Real care – look carefully at the control of resonance. The end of the wonderful new quintet from the brilliant David Horne. Dedicated to Linda Merrick and all the crew in the Kreutzer Quartet – Mihailo Trandafilovski, Clifton Harrison, Neil Heyde – and it will be one of the pieces that turbo-charges our roar as we come back after the interregnum. So delighted to working with this fantastic composer again – we first played his work in Belgrade an age ago!
New Release! 2 9 21
It has arrived! The first complete recording of John Walsh's epochal collection of solo preludes by Matteis, Purcell, Banister, Biber, Cosimi, Gorton, Bononcini and many more, plus beautiful scordatura from Baltzar, on the 1664 Charles II violin. Huge shout out to Stephen Sutton at Divine Art and my astonishing engineer Jonathan Haskell – this is the 60th album we have made togethe. Contact me here if you would like a pre-release copy!
Workshop with Nigel Clarke 2 9 21
Midmorning exploration: continuing a long conversation with Nigel Clarke, about string writing. All part of the progress towards recording his 'Prophecies of Merlin- symphony-with-violin, with our dear friend and much-admired colleague Neil Thomson next year. Here's a playlist of works Nigel has written for me – and also in collaboration with Malene Sheppard Skaerved
Lipinski at the desk!
Over the past two weeks, I have been quietly studying/learning the complete Karol Józef Lipinski etudes and caprices. A wonderful world of colour and open-handed technique. Here's the E minor Op 29, at the desk before supper this evening https://yout
 8 21
On the desk this evening. Some wonderful photos by dear friend Richard Bram – here I am with another inspiring friend and colleague, the naturalist and writer  Laurence Rose – enraptured by Nature, on Farnham Heath. For more of Richard's work, go to https://www.richardbramphoto.com/
Karol Lipinski in the woods 20 8 21
A perfect day, a walk with Malene Sheppard Skaerved in the woods from Epping to Woodford to wonderful afternoon and supper with Susan Sheppard & Tony Sheppard. Started at the desk with this haunted Impromptu by the great Karol Lipi?ski – here 
Morning coffee with Svend Asmussen 19 08 21 
I fell in love with Svend Asmussen's playing in my teens. I am not a jazz violinist, but I learnt such a lot from him about line, colour, timbre, wit, and silence. Here's a little thankyou, at the desk before breakfast today
Abel at the Desk 17 8 21
First listen 10 8 21
After two days in front of the mic., I am even more enraptured with Julius Röntgen's astonishing 6 Suites and Sonatas – the equal (at least) of any other set of solo works written last century. Here's the heart cycle, with a beautiful fugue and a Chaconne on a them by Tovey.
First chance to hear some of our up-coming Edward Cowie release! 5 8 21
Very proud to be a small part of this!
Writing 2 8 21
Long overdue: this summer, a couple of books finally have to be finished. The first, a little niche, on Practice. Tea helps.
Duos 27 7 21
today I was privileged to record the Gottfried Finger sonatas (publ. London 1688) with Olwen Foulkes . This is wonderful music, and I can't imagine a more inspiring colleague to explore it with
Longbow back in action! 26 7 21
One of the best days – Working with dear friends/brilliant artists Olwen Foulkes, Rachel Meerloo, Valerie Welbanks, Dan Shilladay, Salomé Rateau, Tanya Sweiry-Solomons, Alice Barron, Nazrin Rashidova on David Gorton's exquisite concerto based on material by Torelli, with my fantastic collaborating engineer Jonathan Haskell at the helm. Creativity, comradeship, adventure and a lot of laughter.
The Strad reviews my Hallgrímsson disc 21 7 21
Violinist Peter Sheppard Skærved first asked Icelandic-born, long-time Scottish resident composer Hafliði Hallgrímsson for a few short pieces for solo violin in 2005, for a concert he was about to give in a Mexico City art gallery. Hallgrímsson duly obliged, returning to the pieces several years later and adding a second book. The results are his two volumes of Klee Sketches, brief, tongue-in-cheek, quirky miniatures that seem to capture the homespun, unconventional imagery of the Swiss-born artist (himself a violinist), and which undoubtedly find an ideal interpreter in Sheppard Skærved.

There's a certain raw directness about some of his playing – in the opening 'Klee practising an accompaniment for a popular song', for example – that gives his accounts a rewarding authenticity, and a sense of vivid, unhurried storytelling, too, for instance in the Ligeti-like workout of 'Klee experimenting with a new scale' or the remarkable range of colours he uncovers in 'Do not neglect your pizzicato Herr Klee'. There's a lot of humour here, and unconventional musical demands that send Sheppard Skærved scurrying into all manner of extended effects, but these are deeply considered musical utterances too – none more so than the gently glowing lullaby of 'Frau Klee is sleeping', in two related versions.

Far more serious-minded, however, is the Offerto, almost a four-movement sonata written in memory of Icelandic visual artist Karl Kvaran, whose broader structures Sheppard Skærved approaches with a similar sense of spaciousness and narrative drive. It's a seriously playful disc, conveyed in considered, committed performances, and captured in close, generous sound.

DAVID KETTLE
https://www.thestrad.com/reviews/peter-sheppard-sk%C3%A6rved-hallgrimsson/13179.article
First Listen! 17 7 21
It has been a very busy couple of weeks in the studio. Here's just a breath of what I have been doing. A lovely little Allemanda by Giuseppe Colombi, recorded on a fantastic Andrea Amati.
A New Duo project
A wonderful afternoon working with the amazing recorder player Olwen Foulkes on fascinating/beautiful duets by Gottfried Finger and Jacques Paisible – the next stage in exploration of the music of Stuart London. Really great to play chamber music at home again. We will be recording our first disc together in a few weeks time! Watch this space!
Preludes & Vollenteries Reviv'd
We were back in at the wonderful Wren church on Foster Lane  on the 9th July with a fantastic and thoughtful audience. Come to the next concert -22nd July at St Margaret Lothbury. Contact me for bookings : ptrshpprdskrvd@aol.com
Just a reminder – 4 7 21
Here's the Kreutzer Sonata, recorded a LONG time ago, with the Bridgetower cadenza response to Beethoven's piano outburst. There seems to be a little bit of excitement on Radio 3 about 'restoring' theh Kreutzer to 'Bridgetower'. Some of us have been exploring this relationship for some time. Just saying:
More reaction to The Great Violins! (2/7/21)
More thoughtful response to Vilsmayr. Shoutout to Stephen Sutton for perfect production and collaboration, and the Jonathan Haskell, my engineer, for understanding how I hear the violin, and sharing it ! LINK – https://earlymusicreview.com/the-great-violins/
Bagatelle Solitaire, live in Sweden (posted 2 7 21)
This just popped up – Erik Valdemar Sköld 's haunting solo piece. Live in Malmö – it is such a joy to work with the community of composers there! 
More acclaim for Hafliði Hallgrimsson's 'Offerto'  
'all played with conviction and finesse by Sheppard Skærved' The whole Note
Link: https://www.thewholenote.com/index.php/booksrecords2/booksrecords2-2
A treasured handwriting: but whose?
Here's a clue https://youtube.com/playlist?list=PLa6jLsEuw6Umy1P2L1lvEC3WYwRciYvM2
and see below!
Viotti walks out!
About to announce a new leg in my long-running exploration of the violins in the years following the French Revolution. In the meantime, here's my favourite image of a violin lesson, and of the greatest of all teachers. Click on the link to explore this complex picture in absurd detail
Talking/playing about Kreutzer! 23 4 21
Just gave a class on Kreutzer 12 for Gwendolyn Masin's The Exhale/Meisterkurs. People wanted my fingerings-under normal circumstances, no way, but these are not mine, they are Kreutzer's! Here's the score of this delightful little caprice – with a wonderful 3-4 augmented 4th extension (go on, violinists, find it!). Come to the next class – next Wednesday! Details here: LINK
Favourite scordatura! 21 6 21
My favourite scordatura: GDgb! – a little sarabande by Colombi. To hear more- there are still a FEW places left for Thursday's concert in a wonderful Wren church in the Square Mile.
Martin Ellerby, a homage to Hans Werner Henze (editi g 19 6 21)
Schönheit des Morgens: editing Martin Ellerby's exquisite hommage to Henze 'Canti di Colore', which Roderick Chadwihttps://youtu.be/ydAQvDYJQ9Yck and I recorded in the spring. Here's the 3rd mvt
Mihailo Trandafilovski -Song

Tools of the trade/work in progress. This very early stone tool came from my teacher Beatrix Marr's kitchen garden in South Devon (not far from the famous Broom find on the river Blackwater). It's a great companion on the work desk for Mihailo Trandafilovski's exquisite new 'Song', which can be heard LIVE on the 9th July at my third Preludes & Vollenteries Reviv'd concert –
Concert 3 -St Vedast Foster Lane, Friday July 9th , 6pm
Admission, payable on pre-booking £15 (£7 concessions)

From  ptrshpprdskrvd@aol.com
A lot of Henze!
There was a lot of interest in the Henze viola sonata recording and post overnight. So here's my YouTube playlist – All four works for violin with orchestra, and all the works for violin and piano, viola and piano and solo violin. And the solo violin and viola works. Enjoy!
Review of Gregory Rose's wonderful Concerto 7 6 21
'The "Violin Concerto" (2017) centers around a brilliant frisson between solo violin and orchestra, with strident exclamations and marked aural spectacularizing gestures both exciting and deeply complex, with contrastingly contemplative rejoiners that give pause and set up the listener for dynamic narrations to come. It is a capital /M/ High Modern tour de force that needs to be heard and explored as it is in this fine performance with soloist Peter Sheppard Skaerved taking on the Promethean role with heroic fervor and poetic grace. It is a concerto that deserves to be more widely performed, surely.'
https://classicalmodernmusic.blogspot.com/2021/06/gregory-rose-orchestral-works-royal.html?fbclid=IwAR2OFtPLiWQ_ajnH-yX81ZHY0VYEQHdo9BsQrUK3Xwzae852ZPfQtIHTmrE
Anonymous early 17th century wonder…. 7 6 21
Some of the earliest music for violin alone. From the wonderful Breslau 114 MS. If you know your Bassano (Ricercate) and Ortiz (Clasulas) you will recognise scraps of this… at the desk this morning 
Westhoff on the glorious 1572 Amati (3 6 21)
First listen – the glorious 1572 Amati playing Westhoff yesterday. No edits, no EQingin, one take. Heaven for me in my favourite place to record With thanks to Ben Hebbert
Nicola Cosimi on violin by a London Maker he admired 31/5/21
Returning to Rome in 1705, the Italian virtuoso Nicola Cosimi took at least one violin by the London luthier Robert Cuthbert. Here's his A Major prelude, played on a lovely 1676 example of that maker's art.
29th May – in the Studio with the Kreutzers
'From this week's
Kreutzer
Quartet recordings: Robert Schumann, Heinrich Heine, David Matthews, I,
Mihailo Trandafilovski
,
Clifton Harrison
, Neil Heyde.
'in the wonderful month of May
as all the buds were springing-
in the wonderful month of May
as all the birds were singing – then
I told her all my yearning
25th May
Saturday's concert will include Baltzar, both Matteis, Westhoff, Purcell,
Coreen Morsink
and my by-myself version Biber's 'Presentation' sonata. Here at the desk to whet your interest. Mystery prize to the first one who identifies the arch and pediment
24th May – Westhoff on the Andrea Amati!
At the desk this morning – the 1572 Andrea Amati explores Westhoff's 'imitation of bells'. With thanks to
Ben Hebbert.
To hear this violin LIVE, there are still a FEW tickets left for this Saturday's 'Preludes & Vollenteries reviv'd'.  (message me to book ptrshpprdskrvd@aol.com) 
21st May – watch and listen today! 
Do listen at 5pm! New work by Tom Metcalf and a classic quartet by Anne Boyd
17th – 18th May – Recording Edward Cowie 'Bird Portraits' 
Here's just a scrap of what we did in the last two days. The astonishing Skylark which ends book 3 of Edward Cowie's 'Bird Portraits'. Session outtake, unedited, raw. With Roderick Chadwick (and this is the sky over West Harrow station on the way home yesterday) 
16th May – First chance to hear a great violin
First chance to hear an amazing violin (click on the film to find out what!) – many thanks to Ben Hebbert for enabling it – and great to go back my much loved Klagenfurt Manuscript Anon (Klagenfurt MS ca.1685) – Praeludio & Saraband 
14th May. A day in the Holywell Music Room, Oxford
The end of an inspiring day of new and old music, in the oldest purpose-built music room in Europe. The Kreutzers in the Holywell Music Room today, with Tom Metcalf – whose wonderful quartet we premiered to camera. With Neil Heyde, Mihailo Trandafilovski, Clifton Harrison. Listen to Tom's related solo piece here https://www.youtube.com/watch?v=mMnoEFrjHhE
The Strad magazine reacts to my Vilsmayr disc
Sneak peak 8 5 21
A first whisper of this album, recorded on the 1664 'Charles II' violin. Some sinuous gut for your morning. 
Review of my Vilsmayr disc from Canada  6 5 21
Peter Sheppard Skærved continues his fascinating exploration of outstanding violins with The Great Violins Vol. 4: Girolami Amati, 1629, performing the Six Partias for solo violin by Johann Joseph Vilsmaÿr (1663-1722)./The Partias, all consisting of eight, nine or ten very short movements, are described as "an extraordinary bridge" from the solo compositions of German composers like Biber to the later masterpieces of Bach and Telemann. They receive beautifully nuanced performances in a generous CD of almost 82 minutes./As always, Sheppard Skærved's booklet essay is remarkably erudite and informative, examining the use of scordatura and the emotional effects attached to specific key signatures in order to understand the physical and emotional structure of the music.
Terry Robbins (The Whole Note)
Kreutzer etudes and far more at the Exhale – Book here! 5 5 21
Talking about Kreutzer 5 for The Exhale this evening. Book here for my next sessions ' Celebrating Collaboration' https://www.the-exhale.com/class/celebrating-collaboration-13-5-21
Violin and Pencil (a new series)
From today, separate from the 'at the desk' series, I am presenting a sequence of recent live performances, of music of our time, in conversation with drawings made over the past few years. To start with Isobel Mundry's wonderful 'Balancen', live in Munich. 
Something very new from Naki Hakim!
Yesterday my dear friend Naji Hakim sent me this new Toccata. It's fabulous – here it is with my favourite view of Richard MacCormac's jaw-dropping Southwark Underground station, filmed a few days ago. 
Preludes & Vollenteries reviv'd!
St Mary Abchurch, London. Saturday May 29th 6pm
The first of four concerts – the return of Peter Sheppard Skaerved's 'Preludes & Vollenteries series.
In association with 'The Friends of the City Churches'
Programme to include works by Biber, Baltsar, Purcell, Matteis
AND
Coreen Morsink – 'Lockdown Sketches'
This will be a socially distanced concert and there is a cap of 30 places available.
Admission, payable on pre-booking £15 (£7 concessions)
To pre-book E mail ptrshpprdskrvd@aol.com
Further concerts:
Thursday June 24 – St Mary Aldemary
Friday July 9th – St Vedasts Foster Lane
Thursday July 22 – St Margaret Lothbury
'Preludes & Vollenteries' is to-date, a 30 – concert rolling series, inspired by, and performed in, Wren, Hawksmoor, Hooke, and Dance churches in London's Square Mile. It explores solo works from the period marked out by these 'City Churches', including many anonymous works. In addition new work by Peter's collaborators are featured in each concert, including premieres inspired by the series by Nicola LeFanu, Michael Hersch, and Hafliði Hallgrimsson (to name just a few). There have been spin-off concerts across the UK, Scandinavia, and the USA (including the Metropolitan Museum of Art New York City), and linked research events at institutions including Peabody Conservatoire (Baltimore), Cambridge University Music Department Nordnorsk Kunstmuseum (Tromsø), and the RNCM. The series is driven and inspired by both the stakeholders in the buildings and the audience/community which gathered around the concerts, always given as early evening salons.
Initial inspiration came from Walsh's 'Preludes & Voluntarys' (1700), published and sold from his shop behind the Royal Exchange, in 1700. This is the most important collection of works for solo violin alone to appear in the UK, featuring works by London violinists and composers ranging from Nicola Matteis senior and Henry Purcell to major mainland-European figures who never visited the UK, such as Torelli, Biber, Corelli and Lonati.
The series also draws attention to the importance of lutherie in the Square Mile during the period, and its relationship to making in Italy and elsewhere. Instruments heard in the series include Richard Meares, Barak Norman, Jacob Rayman, the 1664 Charles II violin, Stradivari, Amati (Andrea, Girolamo, Nicolo), Maggini, to name just a few. These instruments come from a number of institutional and private collections in Europe and UK
Exploring Westhoff …
A handful of ideas (in progress) running up to my upcoming recording of the Westhoff suites/partitas LINK: https://wp.me/pH1iH-7FB
First look! Cover of the new disc for Athene/Divine Art
A new quartet from David Matthews arrives! 19 4 21
Edward Cowie's 'Bird Portraits' 19th April 2021
This May, Roderick Chadwick and I will record Edward Cowie's astonishing hour-long cycle 'Bird Portratist'. If you want to hear more of his music, here's a recent solo work!
'Lockdown Music' hits 270 recordings
My 'Lockdown Music' playlist, recorded over the past 13 months, mainly at the desk where I am sitting writing, just hit 270 little recordings/films. There's music from 5 centuries, and over 80 works written for me, by friends too numerous to mention here. At least 250 of the pieces are for solo violin or viola, and I am not even close to running out of things to do. So, if you are interested, you can put this list on shuffle….enjoy (or not!!!) 
RIP Simon Bainbrige
I am so grateful to have been able to know Simon. The Kreutzers were blessed to work intensely with him on his astonishing chamber music. He offered us a vision of grace and joy, which we treasure and honour.
Overnight, literally! 26th February 2021
Overnight, literally. My online performance of Michael Alec Rose's 'Air', at the desk (with Zoom doorbells) for The Exhale, last night. And drawing to playback, with coffee, this morning.
A treasured moment just before Lockdown.
On this dark winter evening, (8 2 21) 5 minutes of unexpected Mozart, arranged by our dear friend David Matthews. With Neil Heyde, Mihailo Trandafilovski, Clifton Harrison
NEW RELEASE!

It's here. My recording of the wonderful Vilsmayr Partitas was complete in between lockdowns and edited with my engineer (which equals Duo-partner) Jonathan Haskell over zoom. Thanks to
Stephen Sutton
at Divine Art/Athene for amazing work. You can order it here:
https://divineartrecords.com/composer/johann-joseph-vilsmayr/
or message me for special personalised service!!!! (use the 'contact' link)
Follow along with Zimmermann!
Someone has posted my recording of the Zimmermann Sonate with score . These are not my fingerings!!!! One of the great post-war works for violin, and a wonderful challenge;
12th January – Schubert Sonatas acclaimed
My disc of the three 1816 Schubert sonatas, with the great Juli
an Perkins playing Square piano, has been selected for the Critics Choice 1820 by the American Record Guide. Very proud of this, and we are planning more … ! Buy it here https://divineartrecords.com/recording/schubert-3-violin-sonatas/
11th January – Consolation from Nicola Matteis
5th January, 5th at the desk recording for the new year.
Ronald Stevenson – Fugue mar Piobaireachd. Pibroch-Fugue(Scots Suite 1984) (the rest of this fantastic suite will follow soon)
A clean slate for a new year. We begin with practice! Link here to my overnight pratice-blog