Elliott Schwart-Darwin's Dream
Peter Sheppard Skaerved-Violin
Live at Symphony Space, New York City 21 9 16
On the 21st September, I was able, for the first time, to play Elliott Schwartz's wonderful 'Darwin's Dream' at Sympnony Space on the Upper West Side of New York. I am lucky enough to have been involved in this emerging piece, which is the result of Elliott's collaboration with the work of his late wife, Dorothy (Deedee) Schwartz. The two of them were fascinated by the ideas and life of Charles Darwin, and on visits to England, this evolved into a beautiful set of drawings, paintings and engravings and this piece.
Deedee's work had a profound influence on my own work as both a musician and a painter, and I am proud to say that some of her drawings and paintings (including two of the 'Darwin' sequence) grace our apartment in Wapping.
I shared their fascination; I had been fascinated by Darwin since I was a child, and this fascination was reignited by the 2006 show at the Natural History Museum in New York City, which found its way into my notebooks at the time.
My first performance of 'Darwin's Dream' took place at an exhibition of some of Dororthy Schwartz's work at Robinson College Cambridge in 2010. Here's a link to that performance and some of my writing at the time: LINK
Elliott designed the piece to be 'free' in that the performer or performers are invited to  invent a response to his electronic material and (certainly in my case) Deedee's paintings. I have to say that much of what I do and have done with the piece mirrors conversations that I had with her about painting and the insights she offered me into her (and my work). Here's a drawing which I did shortly after one of those talks.
This spirit of joyful conversation and the play of ideas, infects everything that Elliott and Deedee do and did. My family and I treasure the time that we have spent with them, in America and the UK, talking over diner breakfasts, tea and riotous after-concert suppers.
Elliott was unable to be at this September's concert at Symphony Space, but joined us more than in spirit, on a tablet/Skype, from where he was able to overseet he rehearsals of the whole concert and be a fountain of ideas and encouragement all day.
This was not my first performance of Darwin's Dream in the USA. In …. I gave a performance in Maine as part of  'Darwin Conference' organised by the  Maine Society for the Humanities. That performance was filled with Darwin's own texts. My performance this year was much more 'through composed', musically denser, and the texts which chose just came from Ovid (Metamorphoses) and Lucretius (de Rarum Naturae).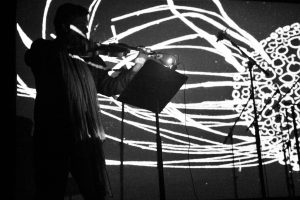 in preparation