Scott Lee – Fiddle Sketch
The spirit of Ole Bull seems to be infecting a lot of what is crossing my practice desk this summer.
I met Scott Lee for the first time when he was studying at the Blair Sch0ol of Music, Vanderbilt University-I was introduced to him by Michael Alec Rose. I was then delighted to run into him again, now doing post-graduate work with my dear friend Michael Hersch at Peabody. He has send me this work in progress, a 'Fiddle Sketch'. So here is my morning's work with it.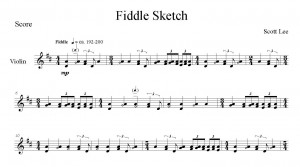 Scott Lee- Fiddle Sketch (Workshop Recording 11th September 2012 Wapping) Peter Sheppard Skaerved-Violin