26th December 2013. Inspired by wonderful days of candlelit conversation with friends, and a gift of Samuel Pepy's Diary, I found myself playing Nicolao Matteis at the table this evening.
Nicolao Matteis-Selected Preludes (Peter Sheppard Skaerved) Andrea Amati 1560 (bow by Antonino Arienti 2011)(workshop recording-at the desk!)
Audio clip: Adobe Flash Player (version 9 or above) is required to play this audio clip. Download the latest version here. You also need to have JavaScript enabled in your browser.
Mihailo Trandafilovski-Duo 2 
Workshop recording (19 12 13)
Peter Sheppard Skaerved-Violin, Roderick Chadwick-Piano
Audio clip: Adobe Flash Player (version 9 or above) is required to play this audio clip. Download the latest version here. You also need to have JavaScript enabled in your browser.
The last rehearsal of the year, a joyous morning playing Mihailo Trandafilovski's 2 'Duos' with Roderick Chadwick (we are recording them in a month). We first played No2 4 years ago, but had no documentation, so, in advance of the recording, here is the LO-FI sneak peak from the rehearsal-and, a picture, taken at the premiere, by Richard Bram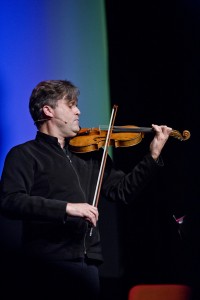 Composer David Gorton is moving towards a large-scale work for strings, rooted in the Lachrymae  of John Dowland. To begin the process, he has arranged this work, and Byrd and Randall's take on it for strings. I have then made a 'next step' throwing Dowland and Gorton into the same space, collapsing material from David's Caprices and Austeriy Measures onto the bass line from Dowland's work. The workshop door wide open. This page is actually part of the process, as he and I exchange ideas.
On the 13th December at 630 pm, see where this leads, as we bring this material, plus Matteis, Walther, and other composers, to the Enlightenment Gallery at the British Museum. LINK
John Dowland-Arranged David Gorton-Lachrymae
Audio clip: Adobe Flash Player (version 9 or above) is required to play this audio clip. Download the latest version here. You also need to have JavaScript enabled in your browser.
William Bryd/John Dowland-Lachrymae 
Audio clip: Adobe Flash Player (version 9 or above) is required to play this audio clip. Download the latest version here. You also need to have JavaScript enabled in your browser.
 William Randall/Dowland-Arranged David Gorton-Lachrymae 
Audio clip: Adobe Flash Player (version 9 or above) is required to play this audio clip. Download the latest version here. You also need to have JavaScript enabled in your browser.
David Gorton/Dowland – Layering Caprices 4 & 7, with Lachrymae basso
Audio clip: Adobe Flash Player (version 9 or above) is required to play this audio clip. Download the latest version here. You also need to have JavaScript enabled in your browser.
John Dowland-Arranged David Gorton-Lachrymae (3-part version)
Audio clip: Adobe Flash Player (version 9 or above) is required to play this audio clip. Download the latest version here. You also need to have JavaScript enabled in your browser.
Workshop session. Peter Sheppard Skaerved, Mihailo Trandafilovski-Violinst, Lucy Railton-Cello, Diana Mathews-Viola 11 12 13
Mihailo Trandafilovski has just completed a piece which he describes as the kernel of much of his recent large-scale chamber and choral works- 'Arc-en-Ciel'. This 4 minute piece is filled with the vertiginous rhapsody that characterises much of his work. We are premiering it together at the Enlightenment Gallery of the British Museum-at 630pm on the 12th December (Admission Free). 
Here's more information. LINK
This evening (11th December), I enjoyed our rehearsal of this piece so much that I could not resist sharing it. A workshop/rehearsal recording-so excuse the recording quality….
Mihailo Trandafilovsi-'Arc-en-ciel' (2013)
Audio clip: Adobe Flash Player (version 9 or above) is required to play this audio clip. Download the latest version here. You also need to have JavaScript enabled in your browser.
Violins -Peter Sheppard Skaerved (Amati 1629), Mihailo Trandafilovski (Maggini 16??)
Today (4th December 2013) I found that David Matthews' music is surrounding me. The quartet is rehearsing the 2nd and 3 Quartets to complete Volume 3 of our complete Matthews Quartets on Toccata Classics. In addition, he has just finished his transcription of all the Beethoven Op 119 'Bagatelles' for the Kreutzers-and the score just arrived, together with a new violin version of his 'Albumleaf for Sally' dedicated to Sally Cavender, of Faber Music, his publisher, who are responsible for the wonderful new imprint of his '15 Fugues', written for me, in an edition which we prepared together.
David Matthews-'Album Leaf for Sally' (2013 Version for Violin)
Audio clip: Adobe Flash Player (version 9 or above) is required to play this audio clip. Download the latest version here. You also need to have JavaScript enabled in your browser.
(Workshop Recording-Peter Sheppard Skaerved-Amati 1629,  Wapping 4 12 13)
Wednesday 13th November-Recording Telemann 12 Flute Fantasies
A day of Telemann, gut strings, a great engineer (Jonathan Haskell), a favourite recording acoustic, medieval floor tiles, and  violin Andrea Amati) and bow (Antonino Airenti) to inspire.Here are outtakes, unedited and raw, but a chance to hear this lovely violin.
UNEDITED Session outtakes: Recorded 13th November 2013 St John the Baptist Aldbury
Peter Sheppard Skaerved-Violin (Andrea Amati 1560  Gut-strung A+416. Bow by Antonino Airenti)
Engineer-Jonathan Haskell (Astouding Sounds)
Fantasia 1 A Major
Audio clip: Adobe Flash Player (version 9 or above) is required to play this audio clip. Download the latest version here. You also need to have JavaScript enabled in your browser.
Fantasia 2  A minor
Audio clip: Adobe Flash Player (version 9 or above) is required to play this audio clip. Download the latest version here. You also need to have JavaScript enabled in your browser.
Fantasia 3 B minor
Audio clip: Adobe Flash Player (version 9 or above) is required to play this audio clip. Download the latest version here. You also need to have JavaScript enabled in your browser.
Fantasia 4 B flat Major
Audio clip: Adobe Flash Player (version 9 or above) is required to play this audio clip. Download the latest version here. You also need to have JavaScript enabled in your browser.
Fantasia 5 C Major
Audio clip: Adobe Flash Player (version 9 or above) is required to play this audio clip. Download the latest version here. You also need to have JavaScript enabled in your browser.
Fantasia 6 D minor
Audio clip: Adobe Flash Player (version 9 or above) is required to play this audio clip. Download the latest version here. You also need to have JavaScript enabled in your browser.
Fantasia 7 D Major
Audio clip: Adobe Flash Player (version 9 or above) is required to play this audio clip. Download the latest version here. You also need to have JavaScript enabled in your browser.
Fantasia 8 E minor
Audio clip: Adobe Flash Player (version 9 or above) is required to play this audio clip. Download the latest version here. You also need to have JavaScript enabled in your browser.
Fantasia 9 E Major
Audio clip: Adobe Flash Player (version 9 or above) is required to play this audio clip. Download the latest version here. You also need to have JavaScript enabled in your browser.
Fantasia 10 F sharp minor
Audio clip: Adobe Flash Player (version 9 or above) is required to play this audio clip. Download the latest version here. You also need to have JavaScript enabled in your browser.
Fantasia 11 G Major
Audio clip: Adobe Flash Player (version 9 or above) is required to play this audio clip. Download the latest version here. You also need to have JavaScript enabled in your browser.
Fantasia 12 G minor
Audio clip: Adobe Flash Player (version 9 or above) is required to play this audio clip. Download the latest version here. You also need to have JavaScript enabled in your browser.
This just in talking about Stradivari at the Library of Congress!
Inspiration-the story of a day – London, Walther, Beethoven, Dowland 7-11-13
It's been a wet and windy day in London, and perhaps not one where I was expecting to be uplifted and inspired. But my colleagues, and the music which they invite me to explore with them, had other ideas, and I finished the evening enchanted.
It might seem all a little prosaic. After all, all that I had on the schedule were two rehearsals. But as I found my way to the first of them, there were signs that a journey of sorts was coming. I took the train to Peckham Rye, to walk to East Dulwich, where the harpsichordist Julian Perkins lives. It's just 15 minutes from my home in Wapping, but as I walked along the high street in the rain, I was struck by the sheer richness and variety of the city where I live, a huge fishmongers, spilling out onto the pavement, a sign 'boxes of cows' feet', a locksmith's shop with a Halloween burglar mannequin in the window, pawnbrokers, a fantastic variety of middle eastern fast food, piles of white eggplant, which never seem to make it north of the river, all the while, the music which I was about to rehearse, Walther, Matteis, Dowland, on my mind.
Rehearsing with Julian Perkins always reminds me that the most honest way to work with any musical material is to inhabit it completely, so much so that every instinct to be free, to follow down more compositional, improvisational paths whilst rehearsing, simply must not be resisted. The work that we were rehearsing, building towards the project at the British Museum on the 13th December was Johann Jacob Walther's 'Hortulus Chelicus' (or the 'Violinist's Pleasure Garden'), published in Mainz in 1688. This is full of musical imitation, of a 'Choir of Violins', of Bagpipes,'organo tremolante', Hurdy-Gurdies, Trumpets, Drums, even something called, rather alarmingly, 'Harpa smorzata', 'which stimulated a discussion of a 'triple – harp' wrapped in sheets, a la Cristo, or my more pessimistic translation/paraphrase, the 'smothered harp'. This sequence of Capricci is book-ended by tumultuous 'French-overture' material, and as I had hoped, Julian found layer upon layer of possibility for ornamentation and aggrandisement in this terrific, Lully-esque thundering.
I confess that it was the notion of music as gardening that had first drawn me to the music, the 17th century pleasure gardens which Simon Schama evoked so powerfully in Landscape and Imagination which designed to surprise and drench, as well as enchant and divert. Julian reminded me that such music was written for people who had, quite literally, time to fill, to stave of boredom as well as melancholy. On the train down, I had been thinking about the Tudor-period Andrea Amati on my back, and found myself reading these lines in Peter Ackroyd's wonderful History of England: Volume 2 'Tudors':
'An image of Elisabeth survives, dining to the sound of twelve trumpets and two kettledrums together with fifes cornets and side drums. Everybody sang in the streets or at their work, the 'mason at his wall, the shipboy at his oar, and the tiler on the house top'. A lute was placed in many barber shops, for customers to while away the time.'
This harking back to the Tudors, to a century before the music which we were primarily rehearsing, was not as inappropriate as it might seem. The event at the British Museum will be taking place in the Enlightenment Gallery (Gallery 1), where I have worked a lot in the past. Encouraged by composer David Gorton, I am exploring how much of the enlightenment not only rediscovered the classical, the prehistorical, the mythical past, but how much of it was simply looking to find a way back to the ideas and ideals of the Renaissance, which had somehow got lost, obscured, in the fires of the Commonwealth and the Thirty Years War. This had also been on my mind on Tuesday, spending a few hours in the English Galleries at the V & A, feeling the 'pull' between the classical finery of the Music Room from Norfolk House, back, to the haunted charm of Elisabeth I's exquisite virginals. David Gorton has found a way of articulating this, re-imagining Dowland's Lachrymae as if revisited, re-cast, by a group of musicians from about 1700. Improvising and talking with Julian, this started to hinge on the void left in British music-making by the death of Henry Purcell in 1695. We talked (and of course played snippets of Purcell's keyboard and string works to each other) at some length about what it was that Purcell had 'distilled'- was it something of an idealised past, which, when it is right, feels so modern. I wanted to pull the musicians active in London at the turn of the 17th-18th Century into this, so a Nicola Matteis prelude went onto the desk, just piled up dissonance and resolution, oddly redolent of the Bach G Major Trio Sonata. Julian pulled down another volume to show me a version of Dowland which I had not considered, from Jacob can Eyck's Der Fluyten Lust-hof (1648), which is exactly what David Gorton is evoking, a 17th century musician reaching back (It's on my music desk to learn right now). As he opened the volume, a loose page of music fluttered to the floor. Serendipity had intervened, and there it was, Dowland's Pavanne Lachrymae the very work which has started David Gorton's explorations-of which more later.
So after a few hours, I staggered to East Dulwich station, much to over-excited, and moved by the beauty of the music which we had been exploring, and aware that I needed to change tack and get ready for something completely different, or maybe not. Next week the Kreutzers play their last 'Beethoven Begins' concert at Wilton's Music Hall. The series has focused on the six Opus 18 Quartets, paired up with works by Reicha, Boccherini, Mozart, and premieres by David Matthews, Edward Cowie, Jeremy Dale Roberts, Sadie Harrison, David Gorton and next week Michael Finnissy. One of the many themes that emerged as we explored these programmes, was how, upon arriving in Vienna in 1792, one could say that Beethoven had no choice but to lock horns with various pasts. Of course, the immediate past was all around him, in the presence of his teacher, Haydn, and the shade of Mozart, who had just left, as it were. However, encouraged by his other teachers, Albrechtsberger and Salieri, Beethoven looked back further, and in multiple directions, to the Italian vocal setting and part-writing of the early 18th Century, to the Counterpoint of Froberger and Bach, to the 'Ancient' music of Palestrina and Monteverdi.
However, I had never really quite understood how he found his way to the 'Heiliger Dankgesang' in the Op 132 A Major Quartet, which will bring the project to a close. However, ten years ago, I first had sight of his Op 118, Elegischer Gesang, and it seemed that there was a clue. Don't be fooled by the late Opus number. This work was written in 1814, for the third anniversary of the death of the wife of Beethoven's friend Johann Pasqualati. Perhaps it was the challenge of writing a chamber choral work (it is scored for four voices and quartet), perhaps the need to produced something appropriately solemn for an elegy. Whatever the reason, we are confronted, for the first time, with Beethoven's total command of the quartet, brought to high watermark of technical accomplishment and economy with his F minor Op 95 Quartet, written two years earlier, and his deepening knowledge and appreciation of early Baroque choral writing. The result, as I was delighted to have confirmed this evening, rehearsing with the Kreutzers and four singers from the wonderful New London Chamber Choir, is the chamber music of the future, not only the Quartets of 1825-1827, but all the slow movements which would take up the 'late Beethoven challenge', from Berg to Brahms, Feldman to Finnissy, Matthews to Rochberg. This is where it starts. And for us a wonderful new challenge, to rehearse with four singers as an octet, discussing the fine-grained question of the dialectic between text-setting, and instrumental syntax. One thing that came up this evening, and perhaps I should have thought of it earlier, was that whilst we string players can do consonants like 'd', or 'g' or en 'n', 'm', or 'nd', it is not so easy for us to find an equivalent to the 'tz' at the end of 'Schmerz'.
Sitting here at my table with the Kinsky-Halm Beethoven-Verzeichniss and Theodore Albrecht's 3 volume Letters to Beethoven open beside me, I am struck by the notion that it was the publication history of Elegischer Gesang which may have been responsible for the late arrival of its ramifications for Beethoven's quartet writing. The Op 132 Quartet, in which the Heiliger Dankgesang is to be found, was completed in 1825, part of the radical rethinking of the quartet medium which had begun with the E Flat Major Quartet Op 127. Three years before that, Beethoven starts to persuade various publishers to publish, the Elegischer Gesang, leading up to the first edition, by Tobias Haslinger, in 1826. In point of fact, the only account we have of a performance in the period, appears in the 10th edition of Whistlings Handbuch in 1827, the year that Beethoven died. I would like to suggest, just for this evening, that it was going back to this score, nearly a decade old, and readying it for publication, might have been a small integer in opening the door to the new quartet style.
But for me personally, a joyous evening, finding that this piece, which I have longed to play, is every bit as beautiful as I had dared hoped, and spending a second rehearsal exploring colour, form, and freedom with fantastic colleagues. Sometimes days just surprise you.
The Concerts:
Wilton's Music Hall-Tuesday 12th November 2013  730 pm LINK
British Museum-Friday 13th December 2013 630 pm LINK
Talk given at TEDx Bergen last month
Rolf Martinsson at the RAM. On the 30th October, we will be playing a wonderful programme of Martinsson at the Dukes Hall of the Royal Academy of Music LINK. This film of one of the pieces in that concert appeared today!
Thursday 11th October Maison Dieu. the Finale of Dover Arts Development's 'War and Peace' project. The climax of an life-changing collaboration/residency, made possible by Arts Council England. My collaborators on this project, Composer Nigel Clarke, writer Malene Skaerved, Artist Joanna Jones. 
Malene Skaerved-'Dogger Fisher German Bight Humber Thames Dover Wight' (read by PSS & Nigel Clarke-'Dogger Fisher German Bight Humber Thames Dover Wight'
Audio clip: Adobe Flash Player (version 9 or above) is required to play this audio clip. Download the latest version here. You also need to have JavaScript enabled in your browser.
Longbow (Peter Sheppard Skaerved, Mihailo Trandafilovski, Aisha Orazbayeva, Shulah Oliver, Alice Barron, Annabelle Berthome-Reynolds, Tanya Sweiry, Preetha Narayanan, Diana Mathews, Morgan Goff, Val Welbanks, Evie Heyde, Rachel Meerloo)
LONGBOW-Director Peter Sheppard Skaerved
Works by Nigel Clarke, Malene Skaerved, Dafina Zeqiri, Mihailo Trandafilovski, Ole Bull and Paganini
An evening of contemporary classical music, poetry and film: Transit: Pulp & Rags October 11th Dover Town Hall, Biggin Street, Dover, Kent CT16 1DL
Dover past and present is the focus of the Grand Finale concert of Dover Arts Development's (DAD) 18-month War & Peace programme. it presents world premieres of three specially commissioned works by Nigel Clarke, Malene Sheppard Skærved and Joanna Jones within a programme devised by violinist Peter Sheppard Skaerved, who will also be directing the Longbow string ensemble.
Dogger Fisher German Bight Humber Thames Dover Wight, which tells of Dover's multi-layered, peaceful and often turbulent nautical history, by Nigel Clarke. Dogger Fisher German Bight Humber Thames Dover Wight, a poetic reflection on Dover by Malene Sheppard Skaerved. Re-Veil-Le, a painting for Dover by Joanna Jones, which will be shown as a film accompanied by Mihailo Trandafilovski's Diptych (Violin Concerto No 2), a piece in two movements: I Dance-Ascent, II Song-Rotation. The title of the evening refers to Dover's industrial and nautical history and the raw materials of paper and canvas. Each member of the audience will receive a piece of original artwork on canvas. Celebrating the travellers (many of them musicians) who passed through and played in Dover, the evening will include short works by Niccolo Paganini and Ole Bull and 'Dream', by the young Kosovan composer Defina Zeqiri, who has worked with Peter Sheppard Skaerved and Nigel Clarke for some years.
Bergen. September 30th 2013-I spent the morning at Valestrand, Ole Bull's first country house not far from here. I have not gathered my thoughts yet, but here is a taste.
Peter Sheppard Skaerved ( imagining what Bull might have done!)-'The Hazel Dell
Audio clip: Adobe Flash Player (version 9 or above) is required to play this audio clip. Download the latest version here. You also need to have JavaScript enabled in your browser.
Recorded in the Music Room Valestrand
Arrived in Nashville, TN  on Thursday-here's a link to what I am doing here LINK
Michael Alec Rose – 'Pre-Amble' World Premiere

Audio clip: Adobe Flash Player (version 9 or above) is required to play this audio clip. Download the latest version here. You also need to have JavaScript enabled in your browser.
Peter Sheppard Skaerved-Violin 
Nashville TN 13th September 2013
Michael Hersch-"Images from a closed ward" (2010)
Audio clip: Adobe Flash Player (version 9 or above) is required to play this audio clip. Download the latest version here. You also need to have JavaScript enabled in your browser.
Lo-fi audio rip from Video
St John's Church, Waterloo, London. 29th June 2013 ('War and Communities')
Kreutzer Quartet (Peter Sheppard Skaerved, Mihailo Trandafilovski, Morgan Goff, Neil Heyde)
On the 29th June 2013, the Kreutzers broughtMichael Hersch's wonderful 'Images from a Closed Ward' at the Waterloo Festival,along with pieces by John McCabe and David Gorton. We have been rehearsing Hersch's piece at Wilton's Music Hall today (12th June 2013). Here is a snapshot.
Kreutzer Quartet Peter Sheppard Skaerved, Mihailo Trandafilovski, Morgan Goff, Neil Heyde
Audio clip: Adobe Flash Player (version 9 or above) is required to play this audio clip. Download the latest version here. You also need to have JavaScript enabled in your browser.
Movement 9-'Haunted; stricken, consort like throughout.
A big thankyou to the my friends at the Blair Quartet, for commissioning and championing this great piece-Grazie Mille, Chris, Connie, John and Felix.
And here is some more Hersch, filmed in Baltimore
Giacinto Scelsi & Edward Thomas-Waterloo Festival 2013
Peter Sheppard Skaerved & Mihailo Trandafilovski-Violins
Audio clip: Adobe Flash Player (version 9 or above) is required to play this audio clip. Download the latest version here. You also need to have JavaScript enabled in your browser.
'Lights out' -Edward Thomas 1915
'Arc-en-ciel'- Giancinto Scelsi
Live at the Waterloo Festival-'War and Communities'
St John's Church 29th June 2013
NB-Lo-fi Audio Rip from Video
News from the Recording Studio! Reicha Quartets continue. 20th June 2013
Reicha-B flat Major Quartet Op 49 No 3
Unedited Outtakes of recording day: 20 06 13
Kreutzer Quartet: Peter Sheppard Skaerved, Mihailo Trandafilovski, Morgan Goff, Neil Heyde
Engineer: Jonathan Haskell
Instruments: PSS-Stradivari 1698 'Joachim', MT-Stradivari 1709 'Regent', MG-Daniel Parker 1714, NH- G B Vuillaume ca.1840
Allegro Assai
Audio clip: Adobe Flash Player (version 9 or above) is required to play this audio clip. Download the latest version here. You also need to have JavaScript enabled in your browser.
Adagio
Audio clip: Adobe Flash Player (version 9 or above) is required to play this audio clip. Download the latest version here. You also need to have JavaScript enabled in your browser.
Menuetto (Allegretto-Allegro)
Audio clip: Adobe Flash Player (version 9 or above) is required to play this audio clip. Download the latest version here. You also need to have JavaScript enabled in your browser.
Fuga:Allegro
Audio clip: Adobe Flash Player (version 9 or above) is required to play this audio clip. Download the latest version here. You also need to have JavaScript enabled in your browser.
Buy Volume 1! LINK to TOCCATA CLASSICS
Beethoven Begins (II) at Wilton's Music Hall.Link to Live Recordings
June 7th 2013
Telemann-Flute Fantasies
All through my work as a musician I have been fascinated by wind and brass instruments, technique, and the interrelationship between string playing and wind brass repertoire/performance, both historically and today. The origin for me, of this is the crossover between repertoire in the 18th and early 19th century. This has its obvious roots in the fact that an accomplished musician of the period was, by definition, a multi-instrumentalist, composer and usually a trained singer. Johann Joachim Quantz, whose  Treatise of a Method for Playing the Transverse Flute (1752 Berlin) is more or less the bible of style and practice in Northern Europe in the mid-18th Century, was also a violinist. There is perhaps more practical information about violin playing in this work than Leopold Mozart's conteporaneous A Treatise on the Fundamental Principles of Violin Playing (1756). There was such a crossover of techniques, and my feeling has always been that this continues.
But my focus of interest here is Telemann. In 1993, I made the first complete recording of the Telemann  12 Fantasies (1735)  for solo violin. At this time these masterpieces were almost never played. They have been at the centre of my repertoire ever since, and I have played the cycle countless times.  LINK  However, the origin of my fascination with these violin fantasies had been my earlier encounter with the 12 Fantasies (1732/3) for solo flute. When I was a student, the wind players with whom I was friends introduced me to the beauty of these works, and I had the opportunity to hear the cycle, in pioneering performances at the time by Wissam Boustany, and when I could, in private, I played these works, though far from the ears of my flutist acquaintances. This led, naturally to the performance and recording of the violin works.
Now however, I returning to all 24 Fantasies. I had always been aware that the earliest known edition of these works (there is a copy in the Brussels Conservatoire Library ( littera T 5823 W) says on the front page "Violino". I am not suggesting for a minute that these are violin pieces, but modestly, that violinists should learn them-as an Apollo-nian balance to the rather earthier (I generalise)violin works. But there is another aspect to this; a simple one, which is that composers such as Telemann, whilst taking advantage of the extraordinary expressive and colouristic opportunities of the flute of the time, had aspects of the violin at back of their minds. A simple example of this would be the placing/tuning of 'open strings'. These are present throughout the works; ironically, in order to keep within the compass of the flute-the works never go below D (a tone above middle C)-which is an open string on the violin, or above the E, two octaves and a tone higher (which is a ringing 'harmonic' on the violin). Yet again, I stress, I do not think these are violin pieces, but steal them, in the same spirit of banditry which draws me to the Schubert Variations or the Bach A minor Partita.
The colour afforded me by the ca.1560 Amati on which I am working today, has drawn me to consider recording both sets of Fantasies together. Here are some selections, recorded at the desk this morning. (7th June 2013) See what you think.
Georg Philipp Telemann-12 Fantasies (selections) Workshop recording. 7th June 2013. Violin-Andrea Amati (ca 1560) Bow-Antonino Airenti (2011)
Fantasia 6 Dolce
Audio clip: Adobe Flash Player (version 9 or above) is required to play this audio clip. Download the latest version here. You also need to have JavaScript enabled in your browser.
Spirituoso
Audio clip: Adobe Flash Player (version 9 or above) is required to play this audio clip. Download the latest version here. You also need to have JavaScript enabled in your browser.
Fantasia 8 Largo
Audio clip: Adobe Flash Player (version 9 or above) is required to play this audio clip. Download the latest version here. You also need to have JavaScript enabled in your browser.
 Allegro
Audio clip: Adobe Flash Player (version 9 or above) is required to play this audio clip. Download the latest version here. You also need to have JavaScript enabled in your browser.
Fantasia 9 Affetuoso
Audio clip: Adobe Flash Player (version 9 or above) is required to play this audio clip. Download the latest version here. You also need to have JavaScript enabled in your browser.
Fantasia 10 A tempo giusto 
Audio clip: Adobe Flash Player (version 9 or above) is required to play this audio clip. Download the latest version here. You also need to have JavaScript enabled in your browser.
  Moderato 
Audio clip: Adobe Flash Player (version 9 or above) is required to play this audio clip. Download the latest version here. You also need to have JavaScript enabled in your browser.
Bach-D minor Partita BWV 1004 (Sarabandes!) VIolin-Peter Sheppard SkaervedVersion 1:
Audio clip: Adobe Flash Player (version 9 or above) is required to play this audio clip. Download the latest version here. You also need to have JavaScript enabled in your browser.
Version2:
Audio clip: Adobe Flash Player (version 9 or above) is required to play this audio clip. Download the latest version here. You also need to have JavaScript enabled in your browser.
Version3:
Audio clip: Adobe Flash Player (version 9 or above) is required to play this audio clip. Download the latest version here. You also need to have JavaScript enabled in your browser.
Engineer: Jonathan Haskell(Astounding Sounds)
On May 23rd 2013, I recorded the D minor partita, in the wonderful St John the Baptist Church, Aldbury. This marked the completion of recording the 6 solo works, an inspiring journey for this violinist. The  hours of recording were really special, an exploration of some of the ways that I see this music. Here, as an example of how I like to work, are three 'readings' of the Sarabanda. With Bach, there's no right way of doing something, anymore than there is a 'right way' to say a line of Shakespeare, or drink a glass of water. What more is there to say? This is also a little homage to the sound of the 1698 Joachim Strad.
21st May 1230 Royal Academy of Music Museum SOUNBOX Admission Free
More Ole Bull reseach-exploring the results of my last trip to Ole Bull's house, in April, LINK
News of the Day-Victoria and Albert 'Cast Courts' Film is online! Go to:LINK
This week-rehearsing Jeremy Dale Roberts wonderful String Quintet!
Anton Reicha-Quartet Op 49 No 2 in D Major
(May 7th 2013), the Kreutzer Quartet recorded this incredible work in the St John the Baptist, Aldbury-our recording 'home'
Here are outtakes of this extraordinary piece! The finished recording will be released on the Toccata Label. (more on this project at LINK)
Anton Reicha-D Major Quartet op 49 No 2 OUTTAKES (Peter Sheppard Skaerved-Stradivari 1698, Mihailo Trandafilovski-Stradivari 1708, Morgan Goff-Daniel Parker 1715, Neil Heyde-Vuillaume 1840)
Allegro ma non troppo
Audio clip: Adobe Flash Player (version 9 or above) is required to play this audio clip. Download the latest version here. You also need to have JavaScript enabled in your browser.
Adagio
Audio clip: Adobe Flash Player (version 9 or above) is required to play this audio clip. Download the latest version here. You also need to have JavaScript enabled in your browser.
Menuetto
Audio clip: Adobe Flash Player (version 9 or above) is required to play this audio clip. Download the latest version here. You also need to have JavaScript enabled in your browser.
Allegro
Audio clip: Adobe Flash Player (version 9 or above) is required to play this audio clip. Download the latest version here. You also need to have JavaScript enabled in your browser.
The Caprices Project-2pm and 6pm. David Josefowitz Hall, Royal Academy of Music 3rd May
Friday  the RAM-the Caprices Project. 2pm and 6pm in the David Josefowitz Hall. An amazing  afternoon!
Here's a Trandafilovski working sketch, to set the workshop mood-with music and performers-Paul Pellay, Sadie Harrison, Diana Mathews, Janes Wicks, David Gorton, Mihailo Trandafilovski, Sadie Fields, Maya Kadish, Michael Hersch, Paul West-Osterfield, Ansgar Beste, Nigel Clarke, Haflidi Hallgrimsson, Robert Szymanek, Benjamin Buchanan, William Cole, Anthony Friend, Uilleac Whelan, Judith Bingham, Richard Causton, Pavel Novak….

Nicola Matteis, Andrea Amati, St Michael's Cornhill 2nd May 2013
Today, I spent three idyllic hours working in astonishing architecture, acoustic, and atmosphere of St Michaels Cornhill. This is moving towards a project, bringing together the music of Nicola Matteis  in a space which seems right, and the exploration of the ca 1560-70 Amati which I am playing.
Workshop recordings-Peter Sheppard Skaerved-St Michael's Cornhill 2nd May 2013 (Andrea Amati ca. 1560-70, Antonino Airenti 'Biber model bow' 2011)
Audio clip: Adobe Flash Player (version 9 or above) is required to play this audio clip. Download the latest version here. You also need to have JavaScript enabled in your browser.
Nicola Matteis-G Major Prelude
Audio clip: Adobe Flash Player (version 9 or above) is required to play this audio clip. Download the latest version here. You also need to have JavaScript enabled in your browser.
Nicola Matteis-D minor Fantasia
Audio clip: Adobe Flash Player (version 9 or above) is required to play this audio clip. Download the latest version here. You also need to have JavaScript enabled in your browser.
Nicola Matteis-Alemanda ad imitatione d'un tartaglia (the stammerer-Commedia dell'Arte character)
Audio clip: Adobe Flash Player (version 9 or above) is required to play this audio clip. Download the latest version here. You also need to have JavaScript enabled in your browser.
Il Russignolo(the Nightingale)
Sunday April 28th-Andrea Amati meet's Johannes Jacob Walther's Hortus Chelicus
Audio clip: Adobe Flash Player (version 9 or above) is required to play this audio clip. Download the latest version here. You also need to have JavaScript enabled in your browser.
Workshop recording, on the ca.1560-70 Andrea Amati. Extact from Johannes Jacob Walther-Serenata a un Coro di Violini, Organo Tremolante, Chitarrino, Piva, Due Trombe e Timpani, Lira Tedesca et Harpa smorsat-Per Un Violino Solo
NEW! I am pleased to announce a drive to raise funds to record Hans Werber Henze's wonderful Il Vitalino Radoppiato LINK
Getting ready for Reicha-complete Quartets, disc two and three LINK
Two Weeks, Two Soundboxes, early Faure, late Faure
1230 April 23rd Royal Academy of Music Museum.
Peter Sheppard and Roy Howat discuss and play Faure's astonishing 1st Violin Sonata.
1230 April 30th Royal Academy of Music Museum.
Peter Sheppard and Roy Howat discuss and play Faure's astonishing 2nd Violin Sonata.
In the rehearsal room. Peter and Roy hard at work on the 14th April 2013, on the 1st Sonata:
2nd Movement: on Dolce, on voicing:
Audio clip: Adobe Flash Player (version 9 or above) is required to play this audio clip. Download the latest version here. You also need to have JavaScript enabled in your browser.
Berceuse: on Ysaye and Rubato
Audio clip: Adobe Flash Player (version 9 or above) is required to play this audio clip. Download the latest version here. You also need to have JavaScript enabled in your browser.
27th March 2013 'A Year With Paganini' Article in the 'Strings Magazine'
It's just out today, and if you are not in the US, you can read it online hear. Then go and buy it!!!
Recording-20-3 2013 (Outtakes) Aldbury Parish Church (Engineer-Jonathan Haskell)
Henry Purcell- G minor Prelude
Audio clip: Adobe Flash Player (version 9 or above) is required to play this audio clip. Download the latest version here. You also need to have JavaScript enabled in your browser.
Nicola Cosimi-A major Prelude
Audio clip: Adobe Flash Player (version 9 or above) is required to play this audio clip. Download the latest version here. You also need to have JavaScript enabled in your browser.
Peter Sheppard Skaerved-Violin (Antonio Stradivari 1698 'Joachim', Bow-Antonino Airenti (Biber Model)
Today, a wonderful Soundbox with dear friends, talking about composition, collaboration and inspiration. Such a joy to have Sadie Harrison (LINK), and Paul Osterfield together in conversation (LINK)
Audio clip: Adobe Flash Player (version 9 or above) is required to play this audio clip. Download the latest version here. You also need to have JavaScript enabled in your browser.
Audio clip: Adobe Flash Player (version 9 or above) is required to play this audio clip. Download the latest version here. You also need to have JavaScript enabled in your browser.
Audio clip: Adobe Flash Player (version 9 or above) is required to play this audio clip. Download the latest version here. You also need to have JavaScript enabled in your browser.
Audio clip: Adobe Flash Player (version 9 or above) is required to play this audio clip. Download the latest version here. You also need to have JavaScript enabled in your browser.
Audio clip: Adobe Flash Player (version 9 or above) is required to play this audio clip. Download the latest version here. You also need to have JavaScript enabled in your browser.