Welcome
'Peter Sheppard Skærved er en sann virtuos, formidler og historieforteller.' – Bergens Tidende. February 2016
I am delighted to answer-just use the 'Contact' link. It is incredibly useful for me to be able to hear responses, ideas and suggestions, so I really appreciate them!
July 21st – an inspiring first meeting with luthier Paul Davies and his 'Spur' violin
13th July 2017-Recording Michael Finnissy Quintet and Quartet
New! Tartini Sonate Piccole Volume 4!
Nikosia June 2017 
Practising in one of my favourite places – Garo Keheyan's 'Shoe Factory' in Nikosia. Villsmayr on the floor, Evis Sammoutis on the wall. More here. http://wp.me/pH1iH-64B
Bergen Festival residency May 24 – 29th
For more information, go to  LINK
Recording Mihailo Trandafilovski Duos with Roderick Chadwick 16 5 17
A fantastic day recording two amazing works by Mihailo Trandafilovski in the church with Coleridge is buried. Listen here. http://wp.me/pH1iH-61z
Premieres! Kreutzer Quartet and Linda Merrick play Rosalind Paget, David Matthews, Michael Finnissy, Hafliði Hallgrímsson, Paul Pellay 11 5 17
Exploration. A day with the Countess of Wessex's String Orchestra 10 5 17
Today, I had the great honour of spending the day exploring two great works for String Ensemble by David Gorton and Nigel Clarke, with the Countess of Wessex's String Orchestra more here: http://wp.me/pH1iH-619
Wonderful concert photography by Catharine Fileman-Wright – 2/5/17
Online-John Cage at at Tate Modern!
This recording, playing Cage with Mihailo Trandafilovski, has just gone online on the Tate Modern site: http://www.tate.org.uk/whats-on/tate-modern/performance/robert-rauschenberg/something-nothing
Concert on Dartmoor 2nd May 2017
Tomorrow's concert on Dartmoor, of miniatures, explores the violin from 1585 to the present day – Giovanni Bassano, Biagio Marini , Thomas Baltzar, Giovanni Battista Vitali, Torelli, Heinrich Biber, Klagenfurt Handskrift, Demachy, Niccola Matteis, J S Bach, Georg Philipp Telemann, Pietro Locatelli, Giuseppe Tartini, Michel Woldemar Niccolo Paganini, Ole Bull, Myllarguten, Ole Bull, Peter Sculthorpe, Nigel Clarke, Michael Hersch, David Gorton,Michael Alec Rose, Evis Sammoutis, Evis Sammoutis, Duncan Krummel Yuting Tan -the last two selected from the brace of composers it was my privilege to work with at Peabody and Ithaca in the past few weeks. Other works from the fascinating new works emerging from these projects will find their way into my programmes very soon – the haunted atmosphere of these two perfect for this concert on the moor!
Kreutzer Quartet with Linda Merrick. Manchester 28th April 
A fantastic day at the Royal Northern College of Music, premiering new quintets by our dear friends Michael Finnissy and Paul Pellay, commissioned by our long term collaborator, clarinettist Linda Merrick. More pictures here. LINK
Svalbard Project 23-26th April 2017
I have just returned from an astonishing few days at the 78th Parallel, taking my Jan Groth project to the Kunsthalle Svalbard, where one of his tapestries hangs.
This has been a life-changing few days, an encounter with the most exquisite wit, extraordinary people of all ages, and, with Groth as my guide/goad. I am, gradually, building these materials into the webpost which I attempted to keep, while I was there. LINK
Jan Groth on Svalbard. 
Just arrived. The most beautiful place in the world to practice. Updates here!
April in Baltimore and Ithaca
I am just coming to the end of a wonderful project working with my young collaboration colleagues at the Peabody Conservatory in Baltimore and Ithaca College. Seventeen new works, the result of six months of collaboration. Many thanks to two great composers, Michael Hersch and Evis Sammoutis for the inspiration and hard work, in making this happen. Link here
Listen here! Newly recorded Mihailo Trandafilovski!
In March, we recorded Mihailo's extraordinary 'Fibers AND Coils', in preparation for an upcoming release of his sonatas, concerto and chamber music. LISTEN HERE: https://soundcloud.com/trandafilovski/fibers-and-coils-outtake
Grand scale for Berlioz and Bryon!
This Christmas, Marius Skaerved gave me a fantastic gift, an early edition of Byron's 'Childe Harold's Pilgrimage'. Little did he know that I had embarked on a year long project to play Berlioz's 'Harold' on this exquisite, graceful Barak Norman tenor. The orchestral performance will be in January, and there are plans to record the Liszt version with an 1840s piano. For now, ready Ben Hebbert'sexploration of this extraordinary instrument. LINK
Restoration! Anonymous Sonatina (ca 1680) from the 'Rost Codex' (23rd March 2017)
After a happy morning exploring 17th Century architecture with composer Nigel Clarke, I spend the afternoon working on the rather obscured MS of an anonymous Sonatina collected in the 1680s by the copyist Franz Rost, who lived in Baden Baden between 1640-88. This extraordinary piece is marked to be played on an intstrument tuned CGCE .  I find that this works well with the C' set at ca.420Hz, so it will sound as if it is tuned AEACsharp!Listen here.
Rost Codex (Rost, Franz) (1680-1688)
Anon – Sonatina 'Verstimmt'
Audio clip: Adobe Flash Player (version 9 or above) is required to play this audio clip. Download the latest version here. You also need to have JavaScript enabled in your browser.
Peter Sheppard Skaerved-Workshop Recording. Maggini (tuning CGCE)
New works from Michael Finnissy and David Matthews-in rehearsal now!
Two brand new works on the quartet stand yesterday. David Matthews 14th Quartet & Michael Finnissy Liederkreis Quintet. A joyful moment. with Neil Heyde, Mihailo Trandafilovski, Clifton Harrison.
New release on the way! David Matthews Solo Works, Volume 2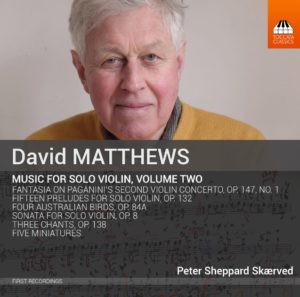 So pleased and proud of this second volume of solo works (I DONT LIKE THE WORD UNACCOMPANIED-WE DONT SAY UNACCOMPANIED PIANO) by the great David Matthews (and that I premiered all the works on this album….) Buy Volume 1 here! LINK
The 'Preludes and Vollenteries' project grows
Preludes and Vollenteries-the other side…over the past two weeks, studying ca. 90 unknown/anonymous (save one) movements for solo violin (at least 60 of them, scordatura, collected ca. 1680. It helps to lay them out to get a grip of this sudden addition 3-4 hours of 17th century unaccompanied music, and I am very grateful to have been locked up in a German hotel room last week, to practice them round the clock.  Find out more here LINK
With Gloria Coates in Munich – 9th March
About to go on stage at the Residenz here in Munich, and spent the afternoon with my dear friend and inspiration, composer Gloria Coates. An afternoon of planning, listening, and laughter. Watch out for upcoming CD launches and performances of her chamber music in London.
New work from Edward Cowie – 3rd March
And this just arrived-Edward Cowie's new solo work for me. Listen to his sublime Particle Partita (with Mihailo Trandafilovski) here. http://www.peter-sheppard-skaerved.com/2017/02/edward-cowie-particle-partita-live-2017/
Oslo-25-28 February – Work with Jan Groth
Follow the link! http://www.peter-sheppard-skaerved.com/2016/10/for-jan-groth-anders-beyer-2016-17/