Welcome
'Peter Sheppard Skaerved's playing sets a gold standard.'BBC MUSIC MAGAZINE 2014
Welcome to my Website. If yoSu have any questions, I am delighted to answer-just use the 'Contact' link. It is incredibly useful for me to be able to hear responses, ideas and suggestions, so I really appreciate them!
Four days in Nikosia 25th March  2013
We have just arrived in Cyprus, in preparation for a series of events, beginning with an all-Beethoven concert with the quartet tomorrow.  To follow this, go to http://www.peter-sheppard-skaerved.com/2015/03/spring-in-nikosia/
Ole Bull's 'Pearl' comes out of the shadows 4th March 2015
Today, first contact with a legendary instrument, barely seen or heard in public since Ole Bull's death, his 1647 Amati. which he called 'my Pearl'. More on this to follow, as projects develop. Photos: Marius Skaerved-more photos here LINK
Filming with Mihailo Trandafilovski at the European Molecular Biology Laboratory
With two composers in Brussels 22-23 February
I arrived here with composer/violin virtuoso Mihailo Trandafilovski, last night. Playing his wonderful  'Diptych' tomorrow night at Bozar. A great gathering of collaborating composer/friends-Nigel Clarke and Jana Andreevska are here too!
Luigi Nono, Biber, Henze, Lachenmann, Great Hall, Goldsmith's 22 2 15
Playing Luigi Nono's 'La Lontananza Nostalgica Utopica Futura', with works by Biber, Henze, and Helmut Lachenmann. With wonderful collaboration from sound engineer Tom Mudd.
Inspiration in New York City 18th February 2015
A morning working with the wonderful team at the Metropolitan museum, getting a new project together, and exploring the instruments.
Celebrating John McCabe
The great John McCabe left us this week. I was very lucky to work with him for many years, to premiere and record a number of his works, and to spend time talking and learning from him. There was always a sense, when he was in the room, that this was the kind of fundamental musical creativity and wisdom that we would expect to find if we met Bartok, or Berg, or Brahms. He encouraged me to perform and record the music of his inspiration, Alan Rawsthorne. I am proud to have played his violin music on three continents, and grateful to have enjoyed his friendship.
Mozart with Daniel Ben Pienaar
This is just by way of announcing an 'incoming' project. Virtuoso pianist Daniel Ben Pienaar, and I, are launching a long term Mozart project. Today, we started work, by way of 9 piano/violin sonatas. Watch this space. Here are Daniel and I, playing Brahms. Link
'The Chamber Eroica' on Radio 3 AGAIN. 10 2 15
What's going on….Radio 3 (In Tune) just played a bit more of the Eroica disc? With Aaron Shorr, Neil Heyde, Dov Scheindlin. Stephen Sutton-two BBC shout outs for one disc in two weeks (Let Rome in Tiber melt…)! Buy it now. 
Announcing a Nono performace-22nd February FREE
La Lontananza Nostalgica Utopica Futura
Works by Luigi Nono, Helmut Lachenmann, Heinrich Biber
Violin-Peter Peter Sheppard Skaerved Electronics-Tom Mudd
Sunday February 22nd, 230pm Admission Free http://www.gold.ac.uk/calendar/?id=8328
Great Hall-Goldsmiths College Lewisham Way, New Cross, London SE14 6NW
Luigi Nono-La Lontananza Nostalgica Utopica Futura
Helmut Lachenmann-Toccatina
Heinrich Ignaz Franz Biber-Der Schutzengel als Begleiter des Menschen
Helmut Lachenmann-Toccatina 
Audio clip: Adobe Flash Player (version 9 or above) is required to play this audio clip. Download the latest version here. You also need to have JavaScript enabled in your browser.
Live at the Shoe Factory, Nikosia, Cyprus 2009
Peter Sheppard Skaerved-Violin(with help from a cricket)
4th February-Great News!!!!
Watch this space-the gang is about to return to our musical home, Wilton's Music Hall?. A huge Hurray to Frances Mayhew….There will be concerts, salon evenings, open workshops, live streaming, in the amazing new facilities which are being installed in this most wonderful of halls. Dates, premieres guest artists, all to follow, but here we are, playing Brahms Op 67 in the theatre, recording courtesy of Colin Still?.
2nd February-Recording David Matthews
An inspiring day-recording David Matthews 11th Quartet with Neil Heyde, Morgan Goff, Mihailo Trandafilovski in our beloved recording venue near the Chilterns. As always with David's music, a musical banquet, and one of the most joyous endings in chamber music! And another review, in the February 'Gramophone' for Volume three of our cycle on Toccata Classics, which it describes as 'the Kreutzer Quartet's excellent cycle of [Matthews's] String Quartets' Roll up, Roll up!
David Matthews 11th Quartet (outtakes)
Kreutzer Quartet-Peter Sheppard Skaerved, Mihailo Trandafilovski,Morgan Goff, Neil Heyde
Engineer-Jonathan Haskell
in the presence of the composer
St John the Baptist, Albury 2nd February 2015
Audio clip: Adobe Flash Player (version 9 or above) is required to play this audio clip. Download the latest version here. You also need to have JavaScript enabled in your browser.
1st Febuary New Discs Featured on Radio 3
Those of you who know the history, will be laughing at me. But today, I am a little proud that two new discs were featured on BBC Radio 3's 'Building a Library' yesterday-Matthews Quartets Volume Three, and Beethoven 'Chamber Eroica'. A huge shout out to the driving forces behind the releases, Martin Anderson (Toccata Classics), and Stephen Sutton (Divine Art). You are both gentlemen and visionaries! And to my colleagues on the recordings, Neil Heyde, Aaron Shorr, Dov Scheindlin, Mihailo Trandafilovski and Morgan Goff, and to two great composers, who inhabit similar woods, Ludwig, and David. Click on the links with the pictures to buy these recordings.
31st January Nationwide Call for works for Solo Violin! 
Composers! York University has set this National Call for New Works, for solo violin, for my workshop/concert there in June this year. More on this event to follow! Here's the link!!! Take part, write or share or both!
30th January Masterclass at Kings College and Liszt/Lafont Rehearsal with Olivia Sham
29th January-Workshop and Concert at Goldsmiths College, with the Kreutzers
24th January-Sound Exploration in Norway
A wonderful day at Lysebu (Dansk-Norsk Fondet). Inspiration outside, and instrumental colour workshop inside, with young players from Oslo and Copenhagen, and colleaguesJakob Kullberg Peter Herresthal, Tim Fredriksen, Anders Beyer hard at work all around. LINK
22nd January-A Collaboration begins. Working with Robin Holloway
21st January-Exploring Schubert…
A fantastic day exploring a wonderful square piano, and, in great company. With the fabulous Julian Perkins for this project. LINK
20th January SOUNDBOX returns!
Tomorrow, SoundBox returns. 'Performing A Museum' (with many thanks to Simon Shaw-Miller for inspiration. Reflections on projects in museums and galleries from the National Portrait Gallery to the Library of Congress. Royal Academy or Music, Piano Gallery, 1230 20th January. Link
Published today-16 1 15 Film of Simaku Premiere!
Thomas Simaku-Capriccioso for Solo Violin (Film)
World premiere performance given by Peter Sheppard-Skaerved at Kings Place, London, 26 November 2014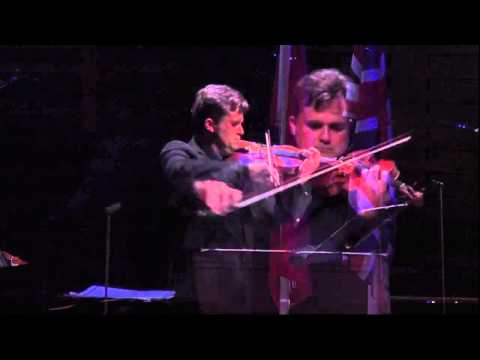 LAUNCHING NOW!
Schubert 1816-Kickstarter Project, with Julian Perkins-Square Piano CLICK HERE!
6th January 2015-Bassano, Matthews, Stamitz
Back to the desk. Bassano Ricercars, Matthews Preludes and Stamitz Divertimenti, with a little help from the Wapping afternoon light.LINK
'Fine Kranse'-Telemann 24 Fantasies, Day 7.
The Jul baking is nearly done, so today we made 'refined garlands' (wreaths seems too maudlin a way of putting it), which are on the scale and the delight of Telemann's miniatures-here, no 7, the heart of the violin cycle. 'Glissez, n'appuyez pas'…Link
Audio clip: Adobe Flash Player (version 9 or above) is required to play this audio clip. Download the latest version here. You also need to have JavaScript enabled in your browser.
19th December-a Folk Opera Begins
Another wonderful project emerges. I am making coffee for this one. Kindred Spirits-Sadie Sadie Harrison and Malene Sheppard Skaerved on their 'folk opera', at our table, right now! http://www.peter-sheppard-skaerved.com/2013/09/sadie-harrison-gallery-world-premiere-wiltons-music-hall-september-11th-2013
17-18th December
Ten years ago, in St Ia Church in St Ives, the fantastic Jeremy Dale Roberts mentioned that was minded to write a quintet, with Woolf's 'to the lighthouse' as one of it's inspirations. Two years after our first workshop on this fantastic piece, a year after the premiere at Wiltons, we spent the past two days recording this absolute wonder of a piece. Here is the composer, with our companion on this journey, Bridget MacRae, in the session today. With Morgan Goff, Neil Heyde, Mihailo Trandafilovski, and Jonathan Haskell. What a joy to be part of this team. http://www.peter-sheppard-skaerved.com/2014/04/jeremy-dale-roberts-capriccio-live/
16-12 14 Henze Concerti about to come out on Naxos
14 12 14 Twenty Four Days of Telemann
24 Days of Telemann. In the run up to the release of my cycle of all 24 Telemann Fantasies on Divine Art's 'Athene Label' this spring, on gut. I am going to give a little tour through the two sets, violin and flute, beginning today, with number one of the violin set, and a introduction to my fascination with the music. But begin at the beginning; last night, this surfaced from an old file-my first 'private map' of the cycle, before my first recording of the violin set, two decades ago (still in the Meridian catalogue). It's a little primitive, but still holds, I think.Link
New recording of David Gorton
After the excitement of the Eroica disc arriving, now our METIER DIVINE ART recording of David Gorton chamber works-with Zubin Kanga, Neil Heyde, Morgan Goff, Mihailo Trandafilovski, and many thanks to Michael Hooper for the notes, and as ever, Stephen Sutton for the vision-is here. http://www.peter-sheppard-skaerved.com/2013/06/david-gorton-austerity-measures-in-rehearsal/
Eroica is Here!!! 8 12 14
Eroica rehearsal….LINK
Today in Cyprus! 3 12 14
European University Cyprus
"PERFORMING A MUSEUM: A VIOLINIST'S ADVENTURES IN CURATED SPACE"
Wednesday, 3rd December 18:30 Graphic Design premises
I will be talking about working in Tate St Ives, Tamayo Mexico City, Archaeological Museum Skopje, Ole Bull House, Victoria and Albert, British Museum, National Portrait Gallery, Library of Congress, Tate Modern, Royal Academy of Music Museum, Royal Academy and more: and playing music by Jean Hasse, David Gorton, Michael Hersch, Howard Skempton, Philip Glass, Hans Werner Henze, Lars Bagger, Haflidi Hallgrimsson and more…..
Thomas Simaku Premiere-26th November
Five Days in Cyprus 30th November-4th December
I am here to give a lecture recital for the European University in Cyprus on my work in museums, and collaborating with my dear friend, the brillian composer Evis Sammoutis. Work began with an intervention and a concert in the Archaeological Museum.For more, go to http://www.peter-sheppard-skaerved.com/2014/11/five-days-in-cyprus/
Soundbox 25th November 2014
Tomorrow: Soundbox-exploring Franz Liszt and Charles-Philippe Lafont.-with the wonderful pianist and Liszt scholar, Olivia Sham
1230 Piano Gallery at the Royal Academy of Music (Admission Free)
Kreutzers at Connect Festival Malmö 19th-22nd November
Go to CONNECT-for pictures and recordings (in preparation)
Tonight in Malmö, Michael Hersch, 'Images from a Closed Ward', and new works by Ismael Palacio, Dante Hildemark, Josef Söreke, Jonatan Sersam, Alfred Jimenez. All part of the Kreutzer Quart at Connect Festival, Malmö.
Darwin's Dream in Maine
Today,  (November 15)I am playing Elliott Schwartz's work for violin, tape and film in Portland, Maine, part of the 'Why Darwin Matters' event organised by the Maine Humanities Council. Here's  the lunchtime rehearsal-LO FI, and a picture!
Audio clip: Adobe Flash Player (version 9 or above) is required to play this audio clip. Download the latest version here. You also need to have JavaScript enabled in your browser.
Release News-Henze Concerti on Naxos
Just to say, that we have a release date for Henze-2nd Concerto and 'Il Vitalino Raddoppiato' (Naxos-Henze Violin Concerti Volume 2)-March 2nd. Here's a link to my writing about the project and the great man, in a break in rehearsing (i sentimenti CPE Bach).Too many people involved in this project to list who need thanking players, and Kickstarter supporters.Link
7th November 2014. Schubert 1816
Today, I began a new exploration of Schubert, working with Julian Perkins, to explore Schubert's three 1816 Sonatas for piano and violin. There is much that I will be saying about this, but just to say, that after months of technical work and analysis, today, sitting down, and playing these works with the a wonderful 1801 Broadwood Square piano, has revealed these works as miracles of refinement and  colour. 
To hear these works for the first time, with this piano, come to:
SOUNDBOX, Tuesday 11th November 1230 Piano Gallery-Royal Academy of Music (Admission Free)
Peter Sheppard Skaerved and Julian Perkins explore the Schubert Sonatas with instruments by Broadwood and Amati
29th October 2014
Opened the case this morning and was struck by the beauty of a violin, the music I will perform tonight (Michael Hersch) and record tomorrow (Boulanger, Satie, Delius, Ives, Janacek, Elgar) and the sound. Here it is, exploring Sadie Harrison's 'Early Responses to the Thames'. I just try not to get in the way.
Sadie Harrison-'Early Responses to the Thames 1990 I: Twilight….Dawn (from Gallery 2)
'The Thames is Liquid History' John Burns, humanitarian (1858-1943), 
In Memoriam Anthony Neil Wedgewood Benn, humanitarian (1925-1914)
Peter sheppard Skaerved-Violin
(Outtake, 21 10 14) Engineer Jonathan Haskell
Gallery 2 is the second set of pieces which Sadie Harrison has written responding to my paintings. This movement responds to a set of paintings that I made shortly after moving close to the river in East Londonk when I was young.
21st October
An inspiring day recording with the wonderful Sadie Harrison-she took the photo with the flowers, in the session-and a serendipitous intervention from the weather in 'Cymbeline's Fort' only a few miles away in the Chilterns. Click on the link to hear a violinist humbled by the elements.
Sadie Harrison-'Cymbeline's Fort'
Outtake from Recording session-21 10 14
St John the Baptist Aldbury
Peter Sheppard Skaerved-Violin and voice
The weather-itself
Supervised by the composer
Engineer – Jonathan Haskell (Astounding Sounds)
Audio clip: Adobe Flash Player (version 9 or above) is required to play this audio clip. Download the latest version here. You also need to have JavaScript enabled in your browser.
21st October 2014. I have been asked to write a short piece talking about the experience of performing on Paganini's wonderful violin on Gut strings. To date, I am the only person to have done this, it seems! Here is what I wrote yesterday. 
Like many violinists, I feel as if I have known 'Il Cannone' for the whole of my life, but nothing could prepare for my first encounter with it, straight out of the show case, a few years ago. From the very first, I wanted to play the violin, as it were, in the purest state, with gut strings, and with no chin rest or shoulder rest. At this first 'meeting' I was able to play on the violin for a number of hours, and took the time to work through many of the Paganini 'Capricci', to explore colour and timbre. This process extended when the violin came to London the following year, and I was able to play on the violin, on gut still, with a chamber orchestra (who, by the way, were playing on modern set up). During that time, I also was given the opportunity to spend time with a microphone recording my reactions to the violin, in private. Shortly afterwards, I came to Genoa, to perform on the violin at the 'Paganiniana', this time on modern 'set-up'. I think that this puts me in a good position to talk about some of the opportunities that arise from this. I should note, that I am very accustomed to performing on unfamiliar instruments, at relatively short notice, ranging from Fritz Kreisler's 'de Gesu' in Washington, to Ole Bull's Guarnerius in Bergen.
If there was one thing which I would highlight about the experience of playing on the 'Cannon' on Gut, with the Paganini Bridge (copy) it is that the violin works in 'registers'. By this, I mean that they 'zones' of the violin-by that I don't just mean pitches, but also the 'hand-zones' on the instrument (such as high on the g string, low on the d and a string) and so one, each have clearly defined colours and 'edges'. This is much more marked playing the violin on gut (and with the bridge) than on a modern setup-where the registers are more homogenised. There are two reasons that this registral delineation is important. Firstly, it reflects Paganini's own music; by way of example, the two voices of the 'rondo' material in Capriccio 9, (imitating flutes, and imitating horns), are extremely colourfully defined. This also matches the arrangement of contemporaneous fortepianos, where the registers are equally clearly defined.
I also found that the extreme colours which Paganini specialised in (such as sul ponticello and sul tasto ) result in far more colourful, even 'haunted' spectra with the violin in this set up, lending credence to audiences' excited response to these timbral effects, as well as to the power of the instrument. It's important to note that with gut strings on, the violin still 'lives up to its name'; I did not encounter any problems of balance, playing with a modern orchestra.
If I am to refer to one other clarification which resulted from playing on this instrument set up thus, it was that the 'non-flageoletti; illustrated in his Segreto work perfectly, and match true 'flageoletti' elegantly set up thus.
One not about the bridge. I had spent a lot of time working on Paganini's postural style. I discovered that the narrow bridge, coupled with his unique posture and bow hold, and the very light touch which the violin needed, enabled me to move around the instrument quickly and easily. LINK for more
20th October-David Matthews Complete Quartets ARRIVES
This just arrived! David Matthews complete quartets Volume three for the wonderful Toccata Classics-a HUGE shout out for Martin Anderson!!! With Neil Heyde, Morgan Goff, Mihailo Trandafilovski, and terrific work from Jonathan Haskell. What a great team to be part of. Buy it now (you can listen to samples) at http://www.toccataclassics.com/cddetail.php?CN=TOCC006
17th October- Tubbs and Elgar-extreme close up
Today, photographer Ian Brearey took some remarkable photos of the extraordinary Tubbs bow owned by the young Edward Elgar. A really rare opportunity to see astonishing craftsmanship up close. Click on the image to see in detail.
Edward Elgar-Sospiri (1914)
Audio clip: Adobe Flash Player (version 9 or above) is required to play this audio clip. Download the latest version here. You also need to have JavaScript enabled in your browser.
(W H Reed Freundschaftlichst zugeeignet)
Peter Sheppard Skaerved-Amati 1629
Roderick Chadwick-Piano
Piano Gallery, Royal Academy of Music, SOUNDBOX  'Channel Firing Event' 14th October 2014
29th October – Michael Hersch and the Kreutzers 
An extraordinary evening with my dear friends, Neil Heyde, Morgan Goff Mihailo Trandafilovski, returning to Michael Hersch's astonishing 'Images from a Closed Ward', which we are playing on 29th October in London, and on 19th November at Malmö's 'Connect Festival'. Here's the flyer, and the piece which began my collaboration with him, after we were introduced by George Rochberg, 'Five Fragments' in a performance in Mexico City. Link
Tuesday 14th October-'Channel Firing' at SOUNDBOX
At 1230 on Tuesday 14th October, at the Royal Academy of Music (Piano Gallery), I will be giving a presentation about my project for Dover Arts Development and the Dover Museum 'Channel Firing'. Here's a link to my journal on the subject: LINK
There will be music (with Roderick Chadwick-Piano) by Elgar, Granados, Ives, poetry, and the reaction to the most unmusical sound-the sound of the Hudson Patent Whistle, used to send men 'over the top'.
Here it is-in my practice room today, frightening the neighhours in Wapping
Audio clip: Adobe Flash Player (version 9 or above) is required to play this audio clip. Download the latest version here. You also need to have JavaScript enabled in your browser.
Jones and Trandafilovski in Cyprus!
My performance of Mihailo Trandafilovski's 'Diptych' (with Longbow) and a film of Joanna Jones's painting, made by Dominic de Vere, will be shown at the Pharos Festival of Contemporary Music, at the Shoe Factory, Nikosia. It's a piece which every questing violinist should play, and a dialogue between two dear friends and much admired colleagues,  If you can't be in Cyprus tonight, watch it here!Link to FILM
September 27th Dream Team in Glasgow
September 25th Three Days of Beethoven
I am en route to Glasgow, where tonight, and Saturday 27th. I will be giving lecture/recitals at City Halls. Tonight LINK, I will explore Beethoven's relationship with the violin-his teachers, inspirations, and collaborators. Saturday's concert, will focus on his circle of composer friends. Music by Beethoven, Reicha, Romberg, Fiorillo, Mayseder and more.
September 20th-Beethoven-1825 Canon for solo violin
Workshop recording, 20 9 14 Peter Sheppard Skaerved
Audio clip: Adobe Flash Player (version 9 or above) is required to play this audio clip. Download the latest version here. You also need to have JavaScript enabled in your browser.
In the midst of preparing for my two lecture recitals about Beethoven in Glasgow next week, I took time out to record what seems to me to be Beethoven's only piece for violin alone (published as 'presumably for two violins'). It clearly has been put together to work for violin alone.
But more than that; it seems to me a wonderful, tiny glimpse into the composer, in a bagatelle state of mind, having just completed Op 132, and about to embark on the 'Grosse Fuge'. I confess to love these tiny offcuts from composers' workbenches.
Same day: 830pm. The post has elicited a flurry of excitement and discussion among composers and players. This arrived from the wonderful composer Martin Butler:
'This is great! Students who I've told 'write a canon before breakfast' please note: something like this will do nicely' (Martin Butler. 20 09 14)
11th September-Today in Sweden….
One of my favourite things to do:  material from a composer that I had met at a collaboration with composers at one institution (Peabody), and it became an important part of the performance and dialogue at another (Musikhögskolan i Malmö ). This was Benjamin Buchanan's 'Vertiginous Beauty (sketch below), which inspired admiration and curiousity yesterday. I have to thank Michael Hersch, Rolf Martinsson, and Staffan Storm, in particular for all that they have done to make this possible
10th September-Ah Robin, gentle Robin, tell me how thy leman doth
Tomorrow, I am going to play my version of Thomas Wyatt's song 'Ah Robin, gentle Robin…' which has emerged from my  project fo Dover Museum ('Channel Firing)at Musikhögskolan i Malmö, along with works written for me by Judith Bingham, Dmitri Smirnov, and Elliott Schwartz. Wyatt was born at Allington Castle on the Medway, and may have been the lover of Anne Boleyn. As we walked the Pilgrims way to Dover, it has been impossible not to be moved by the attention of the 'lovely Robin', which has accompanied, it seems, ever step through hedgerow and woodland. I always find myself talking to the bird.  John Webster shed's a little light on the melancholy association of the bird, in his tragedy The White Devil (1608)
'Call for the robin-red-breast and the wren/since o'er shady groves they hover,/and with leaves and flowers do cover/The friendless bodies of dead men.'
Peter Sheppard Skaerved- 'Ah Robin, gentle Robin…' (Workshop recording August 2014)
Audio clip: Adobe Flash Player (version 9 or above) is required to play this audio clip. Download the latest version here. You also need to have JavaScript enabled in your browser.
2nd September. Tartini in Brussels!
This just in-to say that I will be presenting all 30 Tartini 'Sonate Piccole' at the world renowned Brussels Musical Instrument Museum (MIM) on the 23rd-24th May 2015 as a weekend residency linked to the Queen Elisabeth of the Belgians Violin Competition. More on this to follow.
31st August-Article on Ole Bull
My article on my recent exploration of Ole Bull has just appeared in Strings Magazine (USA). Click here to read. 
26th August-Dowland, Gorton, Collaboration
Web-friendly version of the paper which David Gorton and I wrote for he Performance Studies Network Third International Conference, University of Cambridge, 17-20 July 2014.LINK
8th August. Celebrating Peter Sculthorpe
We are all mourning the loss of Peter Sculthorpe, who died yesterday. When I was starting out, and making my first recording, Peter found out that I did not have enough money to finish it. I had had never met him. A letter arrived, with a cheque to make up the difference His 'Alone' is as vital to me as any music. There's a great spirit gone….
Peter Sculthorpe-'Alone'
Audio clip: Adobe Flash Player (version 9 or above) is required to play this audio clip. Download the latest version here. You also need to have JavaScript enabled in your browser.
Peter Sheppard Skaerved-Violin
6th August- David Matthews Quartets Volume 3
This just in! Fist glimpse of the cover of our new disc of these fantastic quartets. And here is a moment of wonder-this great composer's very first work for String Quartet, a Mirror Canon from 1963:
David Matthews-Mirror Canon (1963) Kreutzer Quartet (Peter Sheppard Skaerved, Morgan Goff, Neil Heyde, Mihailo Trandafilovski) recorded 29 7 14. Engineer, Jonathan Haskell ( Intstruments-Amati, Maggini, Daniel Parker, G B Vuillaume)
Audio clip: Adobe Flash Player (version 9 or above) is required to play this audio clip. Download the latest version here. You also need to have JavaScript enabled in your browser.
4th August Towards Dover, and towards Webern, with Roger Redgate
An inspiring day. Discussions with composer Redgate about his upcoming piece for the Kreutzer Quartet, reflecting on the Webern 'Bagatelles'. Then back to wok on my project for Dover Arts Development and Dover Museum, 'Channel Firing'.
4-8-14 (Walk cross section, Merstham to Farnham) Workshop recording Wapping 04 08 2014
Audio clip: Adobe Flash Player (version 9 or above) is required to play this audio clip. Download the latest version here. You also need to have JavaScript enabled in your browser.
Peter Sheppard Skaerved-Violin (W.E.Hill & Sons 1903)
Another piece emerged over night, as the 4th August dawned. It's a tentative walking piece, a pilgrimage in the wrong direction, from Merstham to Farnham, reflecting the cross section of the walk, chalk, sand, mud, two rivers.
Saturday Auguest 2nd
'Channel Firing', my project fo DMAG and Dover Arts Development, is now going online on the Dover Arts Development Website. To read my daily postings as this music, drawing, writing and walking project develops, go to CHANNEL FIRING
Wednesday 30th July. Recording David Matthews
David Matthews-Mirror Canon (1963)
Audio clip: Adobe Flash Player (version 9 or above) is required to play this audio clip. Download the latest version here. You also need to have JavaScript enabled in your browser.

Kreutzer Quartet-Peter Sheppard Skaerved, Mihailo Trandafilovski, Morgan Goff, Neil Heyde
Recorded-30 7 14 Aldbury Parish Church- Engineer-Jonathan Haskell
Musical supervision-David Matthews
Today, we recorded the very first piece which David Matthews wrote for String Quartet, a mirror canon, which he completed in 1963 at the age of 20. The beginnings of a extraordinary life as a composer; a beautiful piece, heard for the first time today, 41 years after it was written.
Audio clip: Adobe Flash Player (version 9 or above) is required to play this audio clip. Download the latest version here. You also need to have JavaScript enabled in your browser.
To hear more recordings from these sessions, go to LINK
Tuesday 29th July-a day recording David Matthews' string Quartet arrangments of Beethoven, Scriabin, Schumann
There's lots of interest in the David Matthews transcriptions. So here's a first listen. His quartet version of Scriabin's late Prelude Op 75. A joy to play-outtake from today's recording, with Mihailo Trandafilovski. Morgan Goff, Neil Heydede, and the composer…
Alexander Scriabin/David Matthews-Prelude Op 75
Version for String Quartet. World Premiere Recording-Outtake
Audio clip: Adobe Flash Player (version 9 or above) is required to play this audio clip. Download the latest version here. You also need to have JavaScript enabled in your browser.
Kreutzer Quartet-Peter Sheppard Skaerved, Mihailo Trandafilovski, Morgan Goff, Neil Heyde
Recorded-29 7 14 Aldbury Parish Church- Engineer-Jonathan Haskell
Musical supervision-David Matthews
Thursday 24th July-New work from PAUL PELLAY
JUST IN TODAY!This is something which we have been waiting for-Paul Paul Pellay's new piano quintet, 'Mindquakes'. Watch this space for news about the premiere, and in the meantime, here's a link to more of his remarkable work. http://www.peter-sheppard-skaerved.com/2009/12/paul-pellay/
Thursday 17th July Reicha and Michael Hersch
Musicweb Review of the Reicha Quartets Volume 2 LINK
Two days working on a fantastic new piece 'Of Sorrow Born' by Michael Hersch. I will give the UK premiere on October 29th; here's more of his fantastic violin music till then.
Audio clip: Adobe Flash Player (version 9 or above) is required to play this audio clip. Download the latest version here. You also need to have JavaScript enabled in your browser.
Michael Hersch-In the Snowy Margins (2010)-('Thus far and no further. But what has become of the end of the world….')
London Premiere-Peter Sheppard Skaerved-Violin (Stradivari 1698)-St Bartholomew the Great London
21 9 2010
Tuesday 15th July
International Record Review on our Complete Reicha Quartets series, Volume 2:
"With playing of such through-going belief int he significance of the piece, nothing every sounds the least contrived or routine."
To order go to: ORDER
Monday 14th July-Featured composer-Kent Olofsson
Kent Olofsson-Il Sogno del Tartini 
Audio clip: Adobe Flash Player (version 9 or above) is required to play this audio clip. Download the latest version here. You also need to have JavaScript enabled in your browser.
Peter Sheppard Skaerved-Violin
Kent Olofsson-Electronics
InterArts Malmo 15th November 2011
Saturday 12th July Working with Swedish composer David Riebe
A great morning working with young colleague David Riebe, on his new work based on my paintings.I managed to persuade him to let me see some of the preliminary notes for the piece-here they are, a real opener into his process and imagination. An inspiring few hours, and a very special piece emerging. Here's some of his earlier worksLINK
Tuesday 1st July-Recording violin piano works by Priaulx Rainier, Jeremy Thurlow and Jeremy Dale Roberts with Roderick Chadwick
Priaulx Rainier-Movement  for Piano and Violin 1935
Outtake of World Premiere Recording, 1st July 2014. St Michael's Highgate. Peter Sheppard Skaerved and Roderick Chadwick Engineer-Jonathan Haskell
Audio clip: Adobe Flash Player (version 9 or above) is required to play this audio clip. Download the latest version here. You also need to have JavaScript enabled in your browser.
First peek of today's recording with the fantastic Roderick Chadwick-here's our final take of the day, Priaulx Rainier's 1935 movement for piano and violin. A wonderful symmetry, as we began the day working with Jeremy Dale Roberts, who studied with Rainier.
strong>Working with Jeremy Dale Roberts on his Capriccio  (1965) in the recording studio
I find the that recording studio is one of the most creative places to explore the music that I love in depth, and not under pressure. This week's work with Jeremy Dale Roberts, one of great voices, is a good place to explore that process. So I will go through some the aspects of recording a piece like this.
We recorded in the lovely church of St Michael Highgate, which is blessed with a wonderful acoustic and a very subtle, colourful Steinway. This is not the first recording we've made there with my team-recently, we have recorded chamber orchestral discs of Elliott Schwartz and Mihailo Trandafilovski's violin/piano music in this beautiful church. I find that a piece of great architecture is nothing but helpful in recording and this church has the added cachet, the Samuel Taylor Coleridge is buried in the nave.
I have worked with the engineer Jonathan Haskell for a decade, so we have a very good idea what we are looking for sound wise. There's some to-ing and fro-ing with the microphone positions, as there's a very important discussion to be had, with piano/violin music, as to how much the two instruments 'emerge' from one another, or can dive into each other's textures. The repertoire includes many works which include passages which not only demand great clarity, but also when one instrument should literally 'drown' itself in the other. The cascades of scales in the fast sections of Barok's 2nd Sonata are an example of this, whereas the scales at the end of' Prokofiev's 1st Sonata  demand the complete opposite. After some time setting levels, discussing colour (and having the composer in the room is such a boon at such moments), we decided to do a complete playthrough of this intricate piece. The main reason for this, is that although we know it in detail, having a sense of the dramatic arch means that we won't lose our way with the detailed work.
Here's that first playover. We were very happy with as the first take of the day, so it set us up well for the discussion with Jeremy. We have been discussing and working on this piece with the composer for some months-not just in public performances, but in a SOUNDBOX session at the Royal Academy of Music a month ago. It's also worth saying that I have collborated with Jeremy since 2004. I have recorded his epic 45 minute string trio,  Croquis with the Kreutzers (for NMC) along with a set of violin/piano pieces, written for me, Tristia. Last year, after a long wait, we premiered Jeremy's superb String Quintet with the Kreutzer Quartet and Canadian Cellist Bridget MacRae. This performance was broadcast on BBC Radio 3. Last month, we performed the revision of this work at Kettles Yard, as part of Jeremy's 80th Birthday celebrations. To find out more about the dialogue which I have been enjoying with the composer concerning Capriccio  go to:http://www.peter-sheppard-skaerved.com/2014/04/jeremy-dale-roberts-capriccio-live/
So here's the complete playthrough. One of the advantages of recording, is that page turns are less of a problem-and that's a big challenge when playing this big movement in one chunk! So there's flapping around here!
Jeremy Dale Roberts-Capriccio (1st Take-playthrough)
Audio clip: Adobe Flash Player (version 9 or above) is required to play this audio clip. Download the latest version here. You also need to have JavaScript enabled in your browser.
So then the real work began. We decided to break the piece up into 7 sections-which line up, more or less with the 'scenes' which make it up. We play each segment 3-5 times, mostly 4, and each time, Jeremy moulded what we did more and more. We prefer to have the composer in the room with us, so there's no sense of 'them and us' which can emerged with people behind glass. It can get very combative, very fast, so this is the friendly, more creative way. It just feels more like a workshop, than a nail-biting experience.
Section 1 'Molto Flessibile'
Audio clip: Adobe Flash Player (version 9 or above) is required to play this audio clip. Download the latest version here. You also need to have JavaScript enabled in your browser.
The first segment sets up the contrary pull which the music explores, forward and back.There's a wonderful contradiction, which he begins to explore more and more as we talk and play, that what he refers to the as the 'calm, lingering' material, has to be played, he insists with great exactitude of rhythm and dynamic, the faster, more capricious material, with more freedom. This is typical of the internal dynamics of his music-material which he refers to has 'elusive, diffident' needs to be approached with great rigour!
We move on to the first dramatic section. Jeremy inspires us by talking about the importance of the slow chorales which underpin this section. Time runs at a number of different speeds in his music, and everything has to be clear. He often helps me finding the shape for gestures and phrases, by referring to music, to the emotion, 'welling up'-this really helps to find the bow stroke and colour in music this expressively and agogically, layered.
Section 2 'Piu Mosso' 
Audio clip: Adobe Flash Player (version 9 or above) is required to play this audio clip. Download the latest version here. You also need to have JavaScript enabled in your browser.
Each section is played with an overhang of various lengths into its neighbours. Sometimes, we extend these projecting ledges a lot, as you can't always tell whether the best way in an out of a section will be until editing. The third section that we record explores the landscape of the opening. It's very much a place-Jeremy demands an 'abyss of pedal' at one point, which for Messiaen fanatics like us, opens a range of possibilities. Music like this, hovers on the edge of improvisation, but improvisation towards exactitude. Dale Roberts is passionate about the shape and trajectory of silences, and this section introduces a series of rhetorical pauses, marked ',' and ',,' which feel like an actor silencing the audience, mid soliloquy, with a finger on the lips. We start a series of sub-conversations which continue through the recording about composers who love 'suspended' tempos, and Prokofiev looms large in the conversation (though with music like this, Szymanovski, who like Prokofiev, collaborated with the violinist, Paul Kochanski, is never far from mind)
Section 3'Tempo 1′ 
Audio clip: Adobe Flash Player (version 9 or above) is required to play this audio clip. Download the latest version here. You also need to have JavaScript enabled in your browser.
The next section we record is the most extreme in the piece, ranging from music which hovers on the edge of silence, through to an explosion of brilliance from the piano, which serves notice the storm which is about to break. Jeremy takes enormous care in discussing the various gradients, the ebb and flow of this music on various scales. There's a lot of semi-serious mutual ribbing about the 'Debussy-Alban Berg- trick of creating enormous refinements of 'slowings down' by marking 'rit poco a poco….' over a passage which moves from quavers, to quintuplet quavers, to semiquavers,gently speeding up!
Section 4 Poco piu mosso-Lento Molto-Allegro Molto'
Audio clip: Adobe Flash Player (version 9 or above) is required to play this audio clip. Download the latest version here. You also need to have JavaScript enabled in your browser.
The next section is without doubt, the most challenging, and fascinatingly, Jeremy is most concerned still with the shaping of long and short term gradients, looking for extremely vocal glissandi in the mezzo-piano octave writing in the violin part, hunting the long slow melody which stalks within all the ferocious complexity of this music. He doesn't use the word, but what he is hunting for, and elicits, is clarity
Section 5 'Lento'
Audio clip: Adobe Flash Player (version 9 or above) is required to play this audio clip. Download the latest version here. You also need to have JavaScript enabled in your browser.
The last three minutes of this piece is, truly, heartbreaking. Jeremy challenged me to really draw out the portamenti. This is not something that I have any resistance to, but I know that he does not ask for it lightly; he demands a complex and subtle rhetoric-his approach to the voice  is one of poetry, song, and prose. The real miracle of this final take, is the halo of tremolo Roderick creates-echoes of an equally precious piece, which shares so much with this-the Schubert Fantasie.
Monday 30th June 2014-The Strad Magazine (July 2014). PSS on collaboration. 
I have been ranting about collaboration in The Strad. If you want to read it, click on the image. Better still listen to one of collaborators I talk about Poul Ruders-another challenge for you violinists wanting something to sink your teeth into. http://www.peter-sheppard-skaerved.com/2011/07/poul-ruders-summers-prelude-and-winters-fugue/

End of an inspiring day-playing at Ross Lovegrove's design studio 26 6 14
Tuesday June 24th-Celebrating David Matthews
Day 2 of this week's celebration of David Matthews's Quartets. Yesterday I edited our (the Kreutzer Quartet) latest disc in our complete cycle of David Matthews's Quartets on the Toccata Classics label. This disc begins at the beginnning, with the 1st, 2nd and 3rd Quartets. So each day this week, I will introduce one of the quartets already recorded, beginning at the beginning!
David Matthews-2nd Quartet Op 16(1974-1980)
Sonata
Audio clip: Adobe Flash Player (version 9 or above) is required to play this audio clip. Download the latest version here. You also need to have JavaScript enabled in your browser.
Scherzo
Audio clip: Adobe Flash Player (version 9 or above) is required to play this audio clip. Download the latest version here. You also need to have JavaScript enabled in your browser.
Elegy R.S. in memoriam
Audio clip: Adobe Flash Player (version 9 or above) is required to play this audio clip. Download the latest version here. You also need to have JavaScript enabled in your browser.
(outtakes of recording session 29 1 14)
Kreutzer Quartet (Peter Sheppard Skaerved, Morgan Goff, Mihailo Trandafilovski, Neil Heyde)
Engineer-Jonathan Haskell
David Matthews's 2nd Quartet was written between 1974 and 1976. The composer revised it extensively, prior to the premiere, in 1980. This quartet is very much in three movements, but the structure is fascinating. The first two 'Sonata' and 'Scherzo', whilst the 'Elegy' follows plays as long as both these movements put together. Roles emerge for the various players in this piece. In the first movement, the viola begins to take on a rhapsodic, keening character. This sets the stage for the impassioned music of morning, with which he begins the last movement. The natural world is felt through out, birdsong, rushing water, and a sense of topography. At the beginning of the 19th Century, it had been British painters who had argued for the position of landscape painting as a full art form; Matthews is one of the British composers who have most successfully channelled this into chamber music. David admitted freely that the second movement is a response to the rock music which he loved-this quartet writing could not have happened without that.
Peter Sheppard Skaerved/Mihailo Trandafilovski/Morgan Goff/Neil Heyde
Musical Supervision-David Matthews Engineer-Jonathan Haskell (Astounding Sounds)
Outtakes of David Matthews-1st Quartet   1970-80(First Recording)
Audio clip: Adobe Flash Player (version 9 or above) is required to play this audio clip. Download the latest version here. You also need to have JavaScript enabled in your browser.
David's First Quartet was written in 1970, and revised in 1980. It is an astonishing first venture into the medium, and promises what, indeed, was to come, a brilliant cycle of quartets to follow; a cycle, which, I would argue has proved to be as significant as any written in the past 100 years. Like a number of the quartets which would follow, it plays without a break, and, as such, might be said to follow on in the tradition of quartets established, or I should correctly say, re-established by Cobbett's 'Fantasy' competitions, which inspired great works from composers including Britten, Howells and Vaughan Williams earlier in the 20th Century. Even Matthews's multi-movement quartets toy with this 'without-a-break' form, with movements hooking together with cadenzas or momentum between sections. What is most striking, for me, is how David was seeking, as he has so often said, a 'vernacular' a way of using all the sophistication of harmony, counterpoint, and rhythm available to him, whilst forging a language which is 'open', and does not exclude a listener who might consider themselves initiate, not know some abstruse shibboleth. It's fascinating, how much the quartet anticipates the atmosphere, particularly at the opening, of Michael Tippett's 4th and 5th Quartets, neither of which had been written in 1970. There are undertones which really appeal to us as a quartet-the love of Alban Berg's 'Lyric Suite', of Beethoven. But most of all, it's the sheer command of the medium-David, it seems, has always known how to make the Quartet shimmer, dance, burn and hover. It's just extraordinary that this work is not better known; with it, Matthews served notice of a new topography of string writing.
June 18th Recording Sadie Harrison 'Gallery' (with Diana Mathews-Viola)
Sadie Harrison-Lachrymae (Tennessee) after Cotton Eye Joe(Dorothy and Elliott's Piece) Shaftesbury 29th March 2014
Audio clip: Adobe Flash Player (version 9 or above) is required to play this audio clip. Download the latest version here. You also need to have JavaScript enabled in your browser.
UNEDITED outtake. Recorded 18th June 2014 St John the Baptist Aldbury (in the presence of the composer) Engineer-Jonathan Haskell-Astounding Sounds.
'Lacrhymae' is written in response to a small painting which I made in Nashville, TN, a month before. The painting had a number of sources. The reason for the title was two-fold. I was working with composer David Gorton on his evolving piece based on the epnonymous John Dowland work.
However the impulse for the composition, and uppermost in my mind while I worked on the painting, was the Dorothy (Dee Dee) Schwartz, who died on in the first week of March. I was privileged to have been Dee Dee's friend and was enormously affected by her paintings, three of which hang in my apartment. There is a fascinating artistic relationship between her paintings and the music of her husband Elliott. They both continue to teach me so much.
Sadie has known Dee Dee and Elliott for twenty years; this piece is for both of them, as you can see from the title. In the middle, it bursts into 'a quirky little hoedown', a moment of joy and dancing, which reminds me of the Civil War folk song, 'Cotton Eyed Joe' which is one it's sources-this is was recorded in 1929 by Gid Tanner and his 'Skillet Lickers' (two fiddles, banjo, guitar) and, to me, they suddenly appear out of the mist, and are gone.
June  12th and 13th Viotti at the RAM and Workshops for Dover Arts Development-days of adventure
June 10th SOUNDBOX '…after the wildest beauty in the world' (Wilfred Owen)
Today-at SOUNDBOX. I will be talking David Matthews and Nigel Clarke about writing works facing the the First World War. This event will take plave 1230-1345 in the Piano Gallery, Royal Academy of Music. Admission Free. Here are David's '2 Chants' for vocalising violinist.
June 9th 2014 Recording Nigel Clarke
Today is the latest stage of my odyssey with the composer Nigel Clarke, a long-term collaboration which has resulted in two violin concerti, orchestral pieces, solo works and the works which we playing today, 'Dogger Fisher German Bight,  Humber Thames Dover Wight', and 'The Scarlet Flower'. Today's team is my collective of string players 'Longbow'-Mihailo Trandafilovski, Midori Komachi, Shulah Oliver, Alice Barron, Sara Cubarsi, Annabelle Berthome-Reynolds, Preetha Narayanan, Morgan Goff, Diana Mathews, Evie Heyde, Val Wellbanks and Rachel Meerloo, with virtuoso Belgian flugelhornist Sebastien Rousseau. Here's an earlier fruit of the collaboration, Nigels first concerto for me ' The Miraculous Violin' which I premiered with the Zagreb Soloists.
Nigel Clarke-The Miraculous Violin (Live in Zagreb)
(Cadenza – PSS)
Peter Sheppard Skaerved-Violin/Director
I Solisti di Zagreb
Lisinski Great Hall-11th May 2002
Audio clip: Adobe Flash Player (version 9 or above) is required to play this audio clip. Download the latest version here. You also need to have JavaScript enabled in your browser.
Bergen Festival May-June 2014
29th May 2014
Upon arriving in Bergen, I decided to check something which had struck me on engravings and photographs. Bull was born on the 5th February in the chemist's shop owned by his family, 'Svaneapoteket' (the Swan Apothecary).
This wood-framed building (parts of which dated back to 1595) burnt down in the catastrophic fire of the 15-16th January 1916. Looking at the photographs of the building which replaced it, re-orienting the entrance to the corner, cut in the 'Copenhagen-manner' to save space whilst allowing  large vehicles to take the corner, it struck me that it appeared that the new building re-used the only part of the building which seems to have survived-what appears to be a granite door way and the bronze swan which gave the building its name. It still is the 'Swan Apothecary', and when I wandered over there upon arriving this evening, this impression was confirmed. The style of the stone cutting and design of the doorway is different from the rest of the building, which is very much in the style of the post-war buildings in Bergen. And, I am more of the opinion that the Swan appears to be of 18th Century ilk. This, may be the very bird under which he walked every day of his young life.
But this is the reason that I have come, as portrayed in the spectacular statue by Sinding, under my window tonight.
Ole Bull-Sæterjentens Søndag (Arr.Johann Svendsen)
Live in Dover. Maison Dieu (Town Hall) 11 October 2o13
Longbow (Peter Sheppard Skaerved, Aisha Orazbayeva, Tanya Sweiry, Mihailo Trandafilovski, Shulah Olive, Alice Barron, Annabelle Berthome Reynolds, Preetha Narayanan, Morgan Goff, Diana Mathews, Val Wellbanks, Evie Heyde, Rachel Meerloo)(Recorded and engineered by Colin Still-Optic Nerve Productions)
Audio clip: Adobe Flash Player (version 9 or above) is required to play this audio clip. Download the latest version here. You also need to have JavaScript enabled in your browser.
30th May 2014 Bergen
This morning, practising Ole Bull in the astonishing Nordic light, I find that his conversations with Longfellow are on my mind.Longfellow wrote to Sarah Bull: "His presence in a room filled it with Sunshine.' (Camb.Mass. 16 5 1881) Here's his unmistakable figure on the front page of 'Tales of a Wayside inn', in which he appears as 'the blue-eyed Norseman'.
I can feel that tomorrow's concert is going to lean towards America. Last year, I found myself on the road on the route taken by Ole Bull to Williamsport, PA. This small town, now better know as as the headquarters of Little League Baseball, contained the first 'Milliaonaire's Row'. One of them, a shrewd (to put it midly) businessman, Cowan, sold Bull the land in Potter County for his disastrous colony. Here's a bizarre account of Bull's appearance in Williamsport, in 1854, which gives more than a hint that Cowan hardly bothered to conceal his shenanigans:
After the first stretch of practice. I walked the 100 metres the museum next door with one purpose in mind, to spend time with Bull's miraculous Gaspar da Salo. This is perhaps the only one of the world's greatest instruments which is kept in a completely unsuitable late-19th century vitrine. This has two brass plates, one of which, on the back, informs us of the conditions under which it was bequeathed to the city.
The result is, I am afraid, that the violin is an a sorry condition. It's clear that issues of taking it in and out of the alarming clamp in which it is held, have taken their toll. Indeed, since I last looked closely at it last year, some fresh scrapes have appeared on the belly. This is in marked contrast to the astonished condition in which Bull preserved this miraculous violin, which survived his accident on the Ohio River in 1868 LINK. The corners are extraordinarily sharp, and there's no damage on the bouts on the bow side, which is amazing. There's a horrible botch job on the front, where a long scratch has apparently been disguised with red pigment. On the positive side, some of the wear is very informative. A close examination of the belly forward of the bridge (modern-astonishingly, it is not fitted correctly), which reveals that a narrower bridge was used at some point, with a resulting shorter string length.
It's now generally agreed that that the attribution of the highly decorated scroll to Benvenuto Cellini (1500 – 1571) is apocryphal. However, it should not be forgotten that Cellini was the son of an true 'luthier' (a lute maker-the term became the catch-all for maker of string instruments later), and considered becoming a musician. The scroll has something of the erotic punch, even the violence, which one associates with Cellini as artist and man, so the attribution is not suprising. Sarah Bull referred to the violin as the Cellini-da Salo violin, presumably putting the artists in order of renown. 
This  outrageously decorated head (s) also had inbuilt protection. A close examination of the belly of the figure on the reverse indicates that it has a gold button, so that the decoration will not wear when the violin is laid down.
The inlaid fingerboard may actually contain some of the original marquetry. What is clear up close, is that, when it was extended to 19th century requirements, the new section extended the design that was already there-a join is clearly visible 3/5 of the way 'up'
(there's no sense of whether Bull had this done or it had had been done earlier-Paganini 'modernised' his fingerboard in Vienna in 1826). Whilst Paganini TALKED a long about his 'Cannon', Bull showed his off, had publicity engravings made holding it. Curiously, there are no photographs of him with it. I suspect that (especially judging its condition), Bull was not willing to risk touring with it after the near run thing on the Ohio River in 1868.
Evening, same day
Back after an absolutely inspiring afternoon and evening of rehearsal and discovery at Lysøen, Ole Bull's house and island. Here's a link to my first visit to this enchanted place, 20 months ago. LINK
To start with, and an no particular order, here is Bull version of 'Fanitulla' LINK for more on this and my imagining of his 1868 Kentucky Backwoods performance of Shade 'Fiddler' Slone's 'The Brushy Fork of John's Creek' LINK for more info, played on Bull's wonderful 1732 Joseph Guarneri, tuned AEae
Ole Bull-Fanitulla & Shade 'Fiddler' Slone- the Brush Fork of John's Creek' (Workshop recording) Peter Sheppard Skaerved 30-3-14 Lysøen
Audio clip: Adobe Flash Player (version 9 or above) is required to play this audio clip. Download the latest version here. You also need to have JavaScript enabled in your browser.
Vocal music, sung and transcribed, filled Bull's salon music making. He played Charles Gounod's Ave Maria again and again.  The last music which he played was by Italian cellist-composer Gaetano Braga (1829-1907), widely known as 'Angel Serenade', Bull's career had begun in Milan and Bologna, so this was very appropriate.  There's a fascinating 'violin'-link, of which Bull was unaware. Braga was a student of Gaetano Ciandelli, who studied the cello with Niccolò Paganini, Bull's inspiration.
Gaetano Braga-Angel Serenade. Peter Sheppard Skaerved & Roderick Chadwick. Workshop Recording 30 5 14
Audio clip: Adobe Flash Player (version 9 or above) is required to play this audio clip. Download the latest version here. You also need to have JavaScript enabled in your browser.
 Re-imagining the 'American Fantasy'
On 30th June 1857, Ole Bull gave a 'Grand Farewell Concert' in Madison, Wisconsin, a town which would later become one of his homes. The concert playbill promises a Fantasia on American Airs, including 'Jordan's a Hard Road to Travel', 'Pop Goes the Weasel', 'Arkansas Traveler', 'Home Sweet Home' and 'Yankee Doodle' (A performance in Bloomington, Indiana in 1856 also included 'Hazel Dell').  This piece is lost, except one section preserved here, Bull's version of 'Arkansas Traveler', by Colonel Sanford C. 'Sandy' Faulkner (1806–1874). I have reimagined something of style of this lost piece, using fragmentary material Bull left in 'salon' albums, which I found in the British Library London and the Pierpont Morgan Library New York City. As the basis for the transcriptions, I used editions (some published by his American colleagues) available to Bull on his first visits, mainly found in the Library of Congress, Washington DC. The technical devices, and 'crowd-pleasing' tricks were mostly suggested to me by the material which I found here at Lysøen, but my aim was to evoke the particular 'folk-virtuoso' vernacular which Bull developed to win over tough rural American audiences.
Ole Bull/Peter Sheppard Sk?rved-American Fantasy on 'The Hazel Dell' 'Home Sweet Home' 'Jordan is a Hard Road to Travel' 'Pop Goes the Weasel', &  including  Ole Bull-Arkansas-the way it wouldn't do, -the way it would do,   Ole Bull 'A Cappriccio ma moderato'( London 1837(Horsley Notebook London), and Ole Bull-'Ganz' Capriccio (Berlin 1839)
Audio clip: Adobe Flash Player (version 9 or above) is required to play this audio clip. Download the latest version here. You also need to have JavaScript enabled in your browser.
Franz Clement-'Étude' (dedicated to Ole Bull (1839? Vienna) Peter Sheppard Skaerved (Workshop Recording 30 5 14)
Audio clip: Adobe Flash Player (version 9 or above) is required to play this audio clip. Download the latest version here. You also need to have JavaScript enabled in your browser.
Franz Clement (1780-1842) is best known as the dedicatee of Beethoven's Violin Concerto, which he premiered in 1806. He was one of the greatest talents of early 19th Century Vienna, and directed the premiere of the Eroica Symphony. By the time Bull met him, he was almost forgotten; there is no documentation of their encounter, nor that Bull played this piece, is kept today in the Bergen Public Library. Link to Peter playing more Clement!
Ole Bull and Mozart, husband and wife
We begin the concert(s) tomorrow with Mozart-his radiant G Major Sonata K301.
One of the Bull's greatest treasures was a fragment of Mozart manuscript given to him by the composer's widow, Constanze (1862-1842) after a benefit concert in Salzburg in 1839. He later hung it on the wall of the Lysøen Music Room. Mozart was in many ways Bull's ideal. He loved to play his sonatas, and inscribed the first collected edition to his wife, Sara. Working through the materials at Lysøen, I discovered, in his handwriting, the opening of Mozart's C Major Quartet K465 'Dissonance', written out in a piano score, to understand the harmonies (the full quartet score was not available in Bull's lifetime).
One of the great discoveries of the day, the double-case which went into the Ohio river with Bull, in 1868.  We would later find a letter which referred to problems with the varnish on Bull's ornamented Gaspar da Salo, the result of the dye from the lining of the case getting wet and staining the violin.
Concert day, and more-much more!
The wonderful thing about playing concerts at Lysoen, is that the audience has to arrived by boat. Some take the Ferry ('Ole Bull') over from the nearby Buane Kai, and others come in on the shuttle from Bergen.
The atmosphere when this most beautiful of music rooms is filled for a concert is quite unique, and the audience respond extremely actively, particularly to his music, so 'up close'.
As ever, an extraordinary pleasure to play with Roderick  Chadwick, who also ensured that I did not melt under the pressure of premiering 'my' 'American Fantasy'. Here we are after playing, with Bull's 'del Gesu' and 'Vuillaume'; this was a concert on three violins…
We were honoured by the presence of Ole Bull's descendants, including his great-granddaughther, Olea. She was very excited by the concert, and especially the discoveries and reconstructions I had made. This led to a mind-opening invitatino later in the day!
I played the concert on Bull's 1732 Del Gesu and the high-ribbed Vuillaume. Vuillaume's named filled the air later in the evening, as letters written by him to Vuilaume over a 20 year period surfaced in the extraordinary collection shown to us by Olea, his great grand-daughter.
American insights from the day.
One of the documents which appeared in the fantastic pile of correspondence on Saturday evening, was this, an account of profits and gains for concerts in January 1844, as Bull travelled south from Washington DC, through Virginie, en-route to Mobile, Alabama, before travelling to Havana. He had to learn to talk to his audiences; this was something which seems to have become more and more important as he performed in pioneering venues. He wrote to his wife (27 January 1844):
'It isn't as bad as you might imagine,  being that I have no experience in English. But  one can get a lot done with a  strong will'
The account page is laid out with income and outgoings for 5 concerts and for 5 cancelled concerts.
The takings for the 3 concerts in Richmond, Virginia, had clearly fallen off so badly by the 22nd January, that he decide to pay the (not inconsiderable) cancellation fee of $176 dollars, and move on. These concerts were taking place in the 'First Richmond African Baptist Church', which was a that time, the only building big enough to host him in Richmond. In slave-owning Virginia, this was large church drew thousands of slaves to services, who were not allowed to marry, to preach, or to read. There was a small area near the front for the white -that is, free- members of the congreation. The church was rented out for 'white' events. Confederate President Jefferson Davies gave speeches there during the civil war, two decades later, and the congregation was enjoined to join the southern forces from this pulpit.
After expenses, the page informs us that he had made $2302 profit for the week of concerts. Using the rate suggested by the US Bureau of Labor Statistics, this works out at roughly $92.307 for the weeks work. PROFIT. Note that he spent $85 on programme printing, and the money to put labels on the pews of this huge church. He also clearly decided to cut his losses and pay a $176 cancellation  fee ($6674 today) when receipts had gone down after the weekend (no concert on the 20th January-the Sabbath). More on this to follow.
A conversation about organs. 
One of the letters to Ole Bull which surfaced at the weekend in Bergen, was sent on the January 1880, 8 months before Bull's death. It seems that Ole Bull had enjoyed the loan of one of Mason & Hamlin's 'Cabinet Organs'. The company is better known today, for its pianos. However, the company did not turn to piano making until after Bull's death. It's clear that the organ had not been that much of a success, although it is important to remember that at the time this letter was sent, Bull was very ill. In point of fact, Bull had enjoyed a happy working friendship with Emmons Hamlin (1821-1885), one of the founders of the renowned firm, encouraging him to move into violin making, and sending him very old wood for this purpose, from Norway (according to the American Dictionary of National Biography).
It is easy to forget how important the harmonium and 'cabinet organ' became in salon music making. Much music intended for performance in such environments include pats for organ and piano, and indeed this is evident from a number of Bull's manuscript fragments which saw at Lysøen in the course of my research.  Webern's transcriptions of works by Mahler, using a combination of small instrumental ensemble, piano and harmonium illustrate very well, how the organ was seen as a useful alternative to an orchestra, in terms of colour and sustaining qualities. I would go further, and argue that the hearing of the piano as a possible purveyor of true legato, quite aside from the technological advances which were in full spate in the second half of the 19th Century had not gained a foothold, or ear-hold, enough to make the presence of a harmonium unnecessary. Indeed, there is a beautiful example, with an exquisite figured walnut veneer, to be seen at Lysøen. It's interesting that the Mason & Hamlin were under the impression that Bull had not been satisfied, with then instrument:
'I hope that we may yet satisfy you'
I suspect that the actual reason that the firm was having to
'Send a team of men to remove the organ according to [his] wish'
Was that Bull was preparing to return to Norway, where he would die. He was ill-perhaps the reed-based sound of the organ irritated him, or more simply, he, and/or Sarah, was not happy with the obligation which flowed from having the instrument, gratis, in the house. It is clear the Mason & Hamlin were using Bull's approval as part of their advertising strategy-advertisements printed in the 1870's quote Bull as saying that: [quote]
'Excell all instruments of the class that I have ever seen' – Ole Bull
Perhaps he wanted to consolidate his endorsements, which had certainly got out of hand. The English speaking countries, and E-Bay today, were/are littered with 'Ole Bull' branded violins, bows and rosin, to say the least. It's clear that he had no link to most of these-perhaps he felt that this was one area where it might be possible to control the unregulated advertising press!
laying more Clement!