Welcome
'Peter Sheppard Skærved er en sann virtuos, formidler og historieforteller.' – Bergens Tidende. February 2016
I am delighted to answer-just use the 'Contact' link. It is incredibly useful for me to be able to hear responses, ideas and suggestions, so I really appreciate them
Restoration! Anonymous Sonatina (ca 1680) from the 'Rost Codex' (23rd March 2017)
After a happy morning exploring 17th Century architecture with composer Nigel Clarke, I spend the afternoon working on the rather obscured MS of an anonymous Sonatina collected in the 1680s by the copyist Franz Rost, who lived in Baden Baden between 1640-88. This extraordinary piece is marked to be played on an intstrument tuned CGCE .  I find that this works well with the C' set at ca.420Hz, so it will sound as if it is tuned AEACsharp!Listen here.
Rost Codex (Rost, Franz) (1680-1688)
Anon – Sonatina 'Verstimmt'
Audio clip: Adobe Flash Player (version 9 or above) is required to play this audio clip. Download the latest version here. You also need to have JavaScript enabled in your browser.

Peter Sheppard Skaerved-Workshop Recording. Maggini (tuning CGCE)
New works from Michael Finnissy and David Matthews-in rehearsal now!
Two brand new works on the quartet stand yesterday. David Matthews 14th Quartet & Michael Finnissy Liederkreis Quintet. A joyful moment. with Neil Heyde, Mihailo Trandafilovski, Clifton Harrison.
New release on the way! David Matthews Solo Works, Volume 2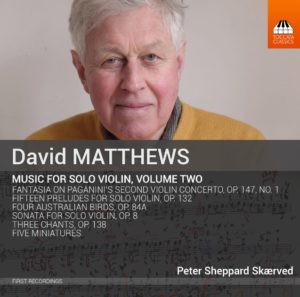 So pleased and proud of this second volume of solo works (I DONT LIKE THE WORD UNACCOMPANIED-WE DONT SAY UNACCOMPANIED PIANO) by the great David Matthews (and that I premiered all the works on this album….) Buy Volume 1 here! LINK
The 'Preludes and Vollenteries' project grows
Preludes and Vollenteries-the other side…over the past two weeks, studying ca. 90 unknown/anonymous (save one) movements for solo violin (at least 60 of them, scordatura, collected ca. 1680. It helps to lay them out to get a grip of this sudden addition 3-4 hours of 17th century unaccompanied music, and I am very grateful to have been locked up in a German hotel room last week, to practice them round the clock.  Find out more here LINK
With Gloria Coates in Munich – 9th March
About to go on stage at the Residenz here in Munich, and spent the afternoon with my dear friend and inspiration, composer Gloria Coates. An afternoon of planning, listening, and laughter. Watch out for upcoming CD launches and performances of her chamber music in London.
New work from Edward Cowie – 3rd March
And this just arrived-Edward Cowie's new solo work for me. Listen to his sublime Particle Partita (with Mihailo Trandafilovski) here. http://www.peter-sheppard-skaerved.com/2017/02/edward-cowie-particle-partita-live-2017/
Oslo-25-28 February – Work with Jan Groth
Follow the link! http://www.peter-sheppard-skaerved.com/2016/10/for-jan-groth-anders-beyer-2016-17/